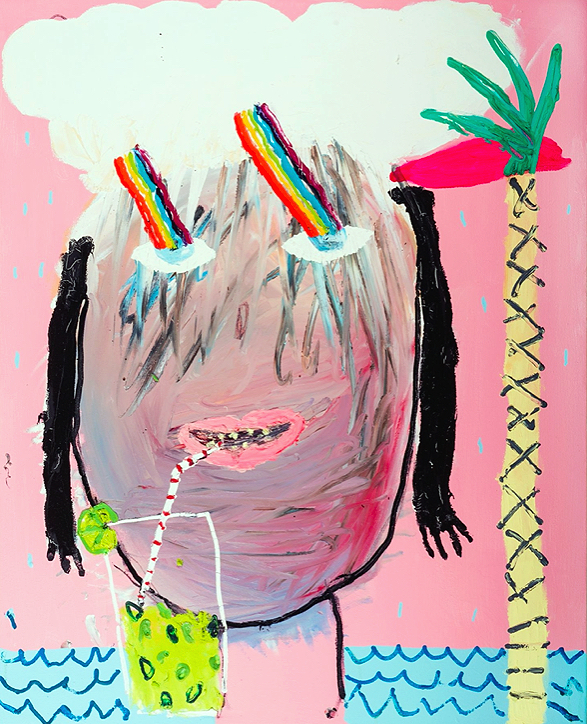 Bel Fullana sits down with Erik Sommer to talk about tourism, Grimes, making digital modifications, and seeing beauty in a dump.
(ES) Describe your work for us.
(BF) I think my work could be described as figurative and carefree expressionist painting with a strong childlike character.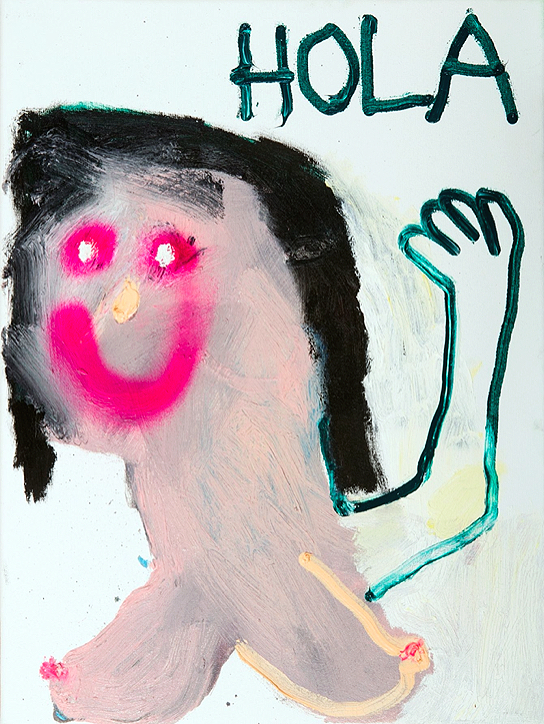 Tell us a bit about your background. Where did you grow up?
I grew up in a small village in Mallorca in a rural environment between small hills and not far from the coast beaches, a perfect place to be a happy child. At the age of 19 I moved to Barcelona, where I lived for 6 years during my Fine Arts studies. When I returned to Mallorca I lived in Palma, the capital of the island, until very recently.
Where do you live and work now?
Right now I am back in the village I was born, living and working in a house in the country.
How do you think this has influenced your work?
Something of my environment that has influenced me a lot to create a great part of my work has been the tourism that there is in Mallorca. The behaviour of tourists who come to get drunk and lose their temper on the beaches of the island has always attracted my attention. Maybe if I hadn't lived in such a touristic place I wouldn't have painted some of my works.
Do you remember any artists as a child that captured your attention?
My mother had some dusty art encyclopedias on the shelf, I remember looking at them over and over and was amazed at Dubuffet's work.
I also remember being very impressed by Miró's work when I visited the Pilar & Joan Miró Foundation in Palma during a school trip.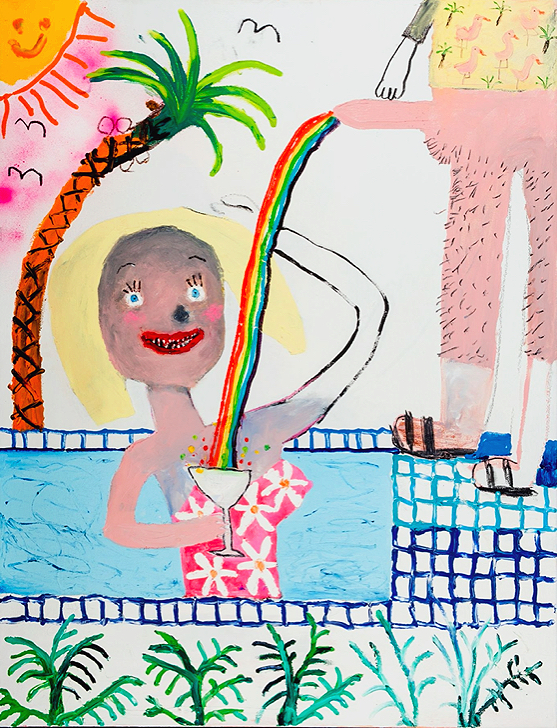 Any artists today you are looking at?
There is a long list… For example, Austin Lee, Allison Schulnik, Siro Cugusi, Sebastian Helling, Robert Nava, Bast NY, Claudia Maté, Maria Pratts… And many, many others!
Your palette is immediately recognizable. Have you always worked with such vivid color?
No, years ago I painted in much duller colors. During the last 10 years I have changed a lot in my way of painting, both the colours and the line.
These colors and rainbow symbols are a nice contrast to the somewhat dark and mature themes of your work. Why is this dichotomy important to you?
I believe this duality in my paintings is an extension of my way of being and how I see life, and is also a reflection of my tastes. Many artists that I admire take advantage of this contradictory method to create their language. For example, Grimes or Yolandi Visser have a naif face that contrasts with another darker one. I love it and I want to see it in my work!
You have previously stated that "Beauty does not exist. Everything is rotten." Can you expand on this?
Did I really say this? I don't know why I said this… Beauty does exist, I see beauty in a kitten, in a sunset, in the stars and the moon, in nature, also in the densest city full of lights. I see beauty in a dump, in a nightclub full of sweaty drunks or in a fatty burger full of ketchup. Maybe beauty is everywhere, it's just a matter of appreciating it or not.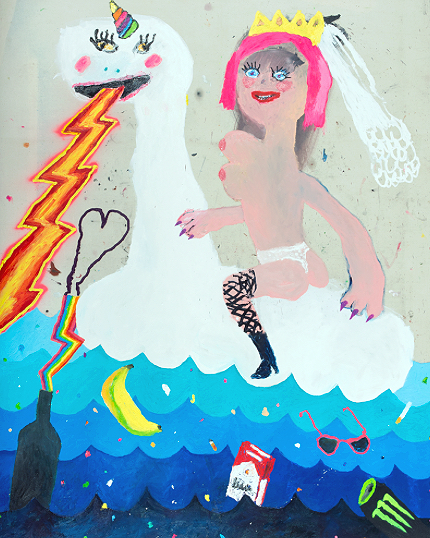 I don't know why I said this sometime but right now I think that statement is a shit.
Do you consider your work to be figurative or abstract, or are you not concerned with such labels?
I consider my work totally figurative. It is amorphous and unkempt, but it is figurative.
Are you more concerned with the process or the end result?
I am always worried about the end result. My work seems very spontaneous but it is not that much actually. I give a lot of thought to the pieces before finishing them.
The process also worries me a lot lately. I tend to paint in a very rough way in order to get the expressive and lively finishes that I am looking for, but sometimes this plays a trick on me because oil painting has a whole system of drying that has to be taken into account because otherwise it can crack. It is difficult to think about these technical issues when you try to paint in a visceral way.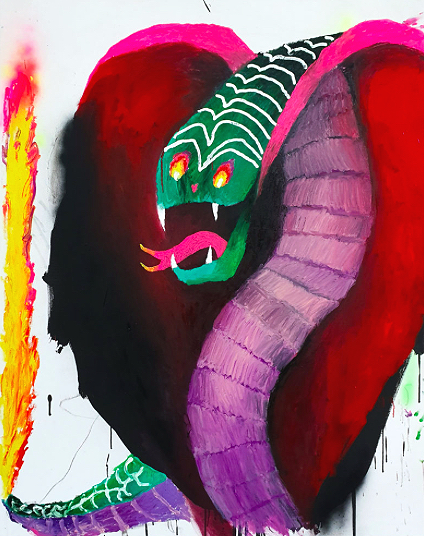 What is your normal studio practice like? Any routines or superstitions?
I am very disorganized, I don't have routines. Sometimes I work during the day, sometimes at night. Sometimes I work a lot, sometimes not that much… Even though I try, I cannot maintain a routine.
What about your working technique? Walk us through how you start and then develop a piece.
I always work without sketches before painting. I start painting without any established idea and from the paint spots I form characters and scenes. My work has a lot to do with improvisation at the beginning, to start the pieces, but while I am working on them I take pictures of each session to see the image in the computer and see what parts I could improve using Photoshop, making digital modifications, to later make them on the canvas.
What current themes do you see in today's art world?
I see a futuristic and post-internet trend. I also see an exaltation of cybernetic and apocalyptic aesthetics. I believe that the contemporary artist wants to explore the human being's place in all this flourishing technology.
What excites you the most about the current art world?
I am very excited to see that pictorial practice is once again playing an important role in the contemporary art world. Some may think that painting is 'boring', but many artists today are proving that it isn't!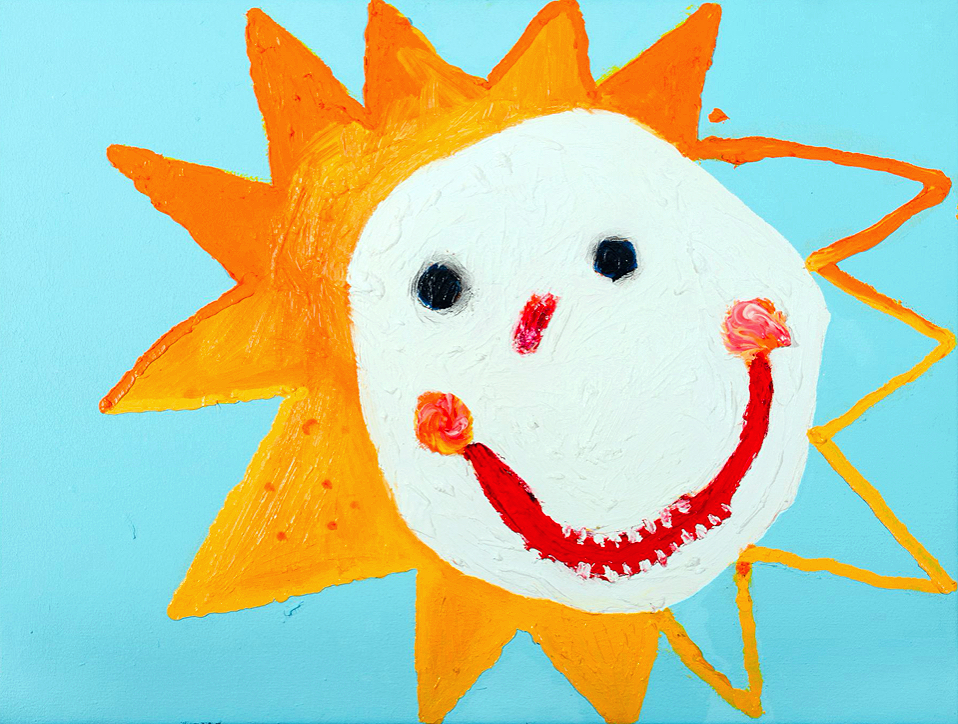 Any recent or upcoming projects?
Right now I have some works in the group exhibition 'Look Both Ways' that opened last week at Charlotte Fogh Gallery. In September I will participate in two group exhibitions, one in MACE in Ibiza and another in NBB Gallery in Berlin that open its doors with this show. For a little bit further on I have scheduled a project in Allouche Benias Gallery in Athens, and for next year if everything is ok with the health crisis I will be in Arco Madrid with Galería Fran Reus.
Also next year I will be in a group show at Plastic Murs in Valencia, and have my second solo show in Galería Fran Reus here in the island.
Finally, what is your favorite color?
Maybe the gum pink color is my favorite one.