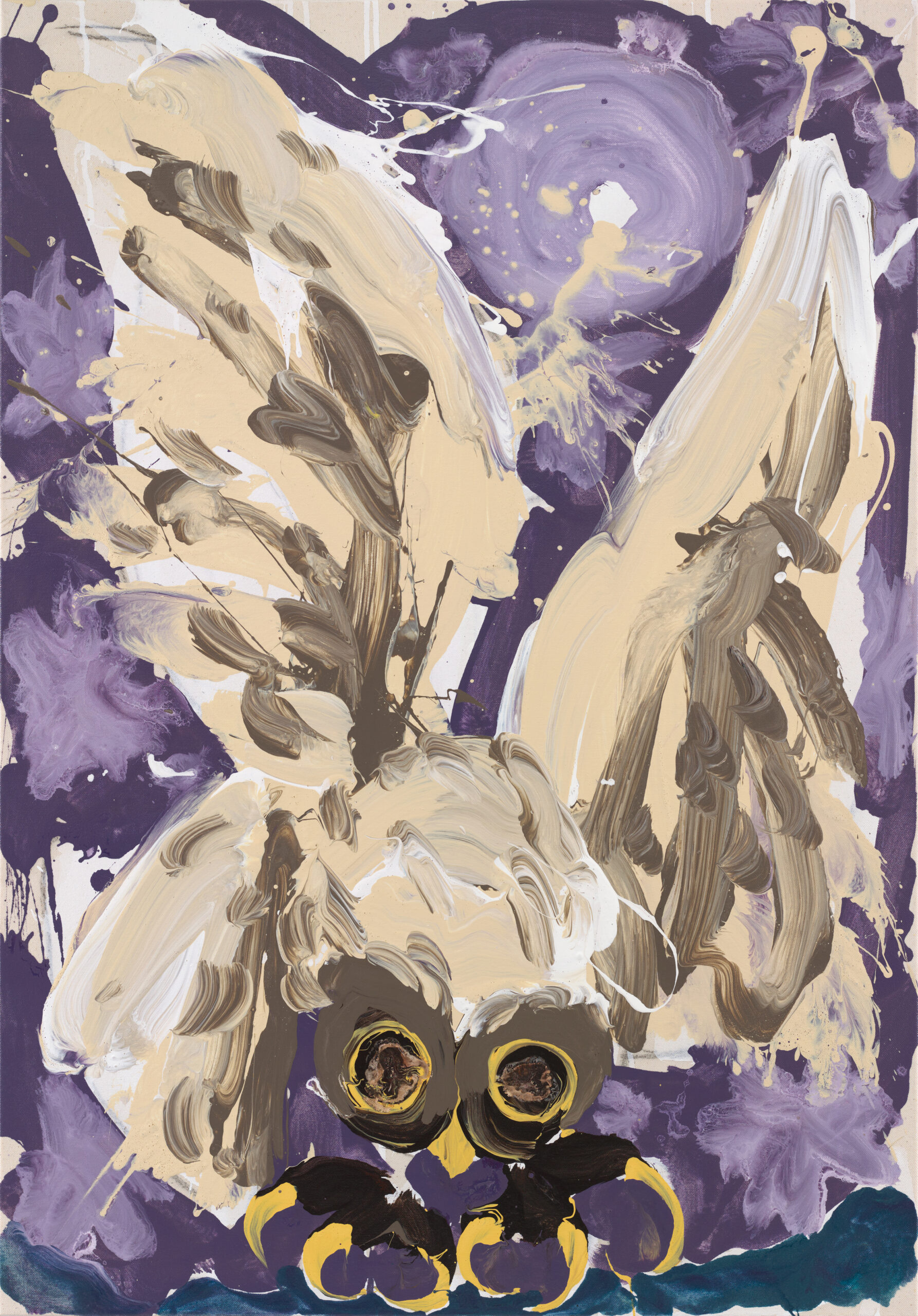 Coming off of his stint as one of the featured artists on David Zwirner's Platform, David Surman sits down with Erik Sommer to talk about contradictions, pathetic truths, painting natural subjects, and the irreducible tension that leads him to make the pictures he does.
(ES) Describe your work for us.
(DS) I make figurative paintings that express my interest in two things: first the big thematic questions of being and feeling, and second the material and contextual question of what it means to be a painter today. What I mean by this is that my painting is not approached in a nostalgic or historical attitude but rather kind of enthusiastically but also skeptically, seeing it as a kind of important but also impoverished and limited activity. I am interested in how painting embodies both wonderful success and recurrent failure as the painter tries to wrestle with the seemingly ludicrous activity of making paintings in the 21st century. For the past five or so years I have painted primarily animal subjects in a range of different approaches from the cute to the semi-abstract to the referential-inspired. I like painting animals because they short-circuit people's interpretive routines and get them looking at paint without the self-consciousness they might bring to abstract painting. I want to make work that has something to offer a broad range of people bringing different knowledge to bear on it.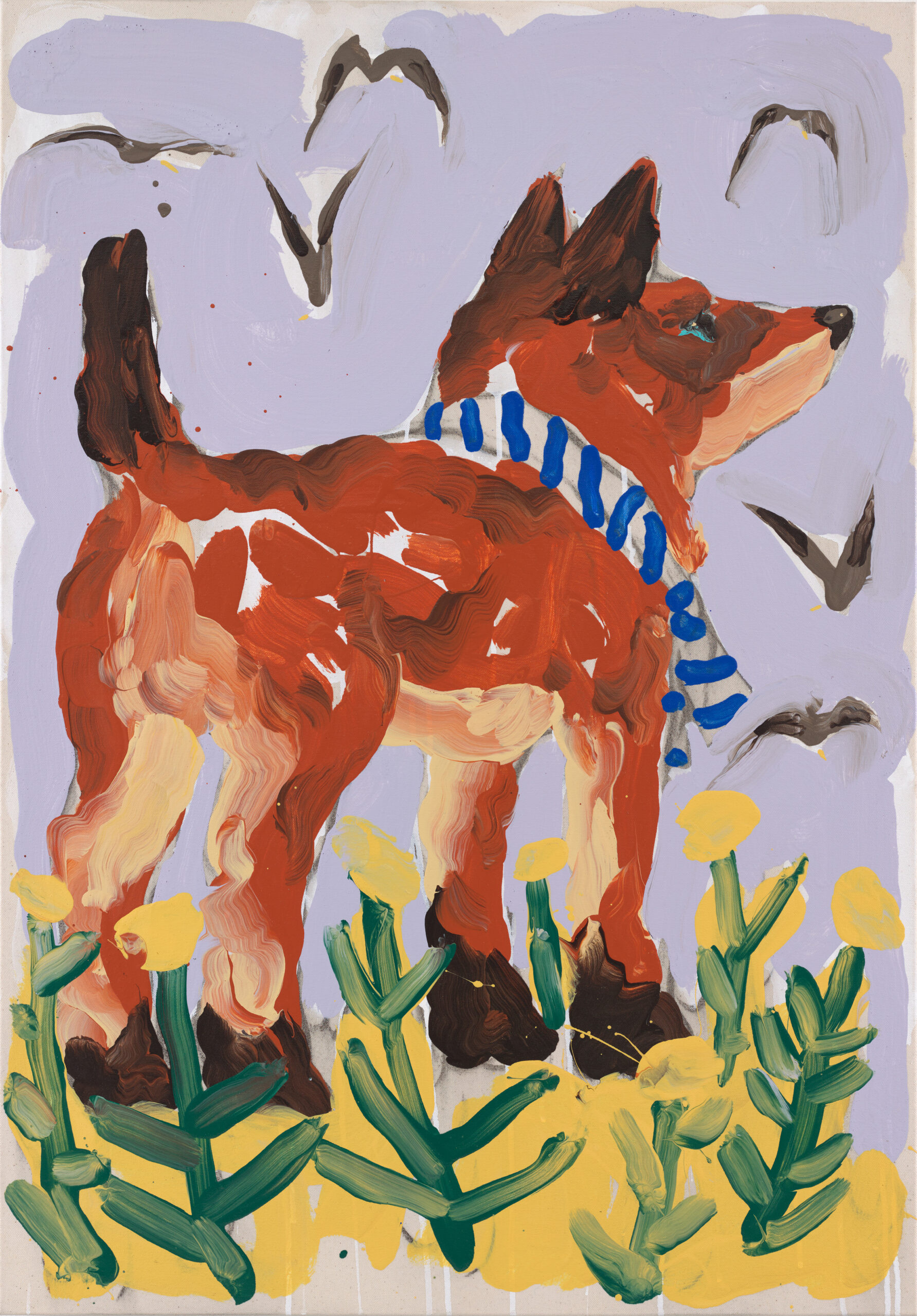 Tell us a bit about your background. Where did you grow up?
I grew up in a small coastal village in the southwest of England. I spent the first twelve or so years there and around the time that I went to high school we moved to the far northwest of Scotland to a remote place where my dad had started a new job. I lived there for five years or so until it was time to leave home and go to college, and then I moved to the south of Wales where I studied film animation. So you could say that I have lived all over the UK because now I live here in London in the southeast.
Where in London do you live and work now?
My studio is in a neighbourhood called Deptford in the southeast of London; I live very close to my studio and I am able to walk there in about 10 minutes. The entire area is part of the industrial past of London, a kind of Docklands area with connected industry and housing, and my studio is in a building that was once a factory making ship propellers. There are many other studio buildings in the area and I guess you could call Deptford one of London's artist districts; there are also lots of galleries emerging in the area.
How do you think this has influenced your work?
My work contains a lot of different contradictions—on the one hand I am inspired by the life of my childhood, all the animals and landscapes and the general rough and ready feeling, and at the same time my work has a distinctly metropolitan focus because I am influenced by the types of expressive painting associated with New York, Berlin, Tokyo, and so on. When I was a teenager living in a rural world being gay and and keeping that secret, I thought to myself that it must surely be better to live in the city. Back then the outer person was rural and the inner person was metropolitan, and yet now I sometimes feel those things are reversed when making my work. I think that this is an irreducible tension in me that leads me to make the pictures that I do. I think it is fairly obvious that effects of the internet and the changing global economy have rendered us all precarious and provincial and that there are no true centres anymore, but that is a different story.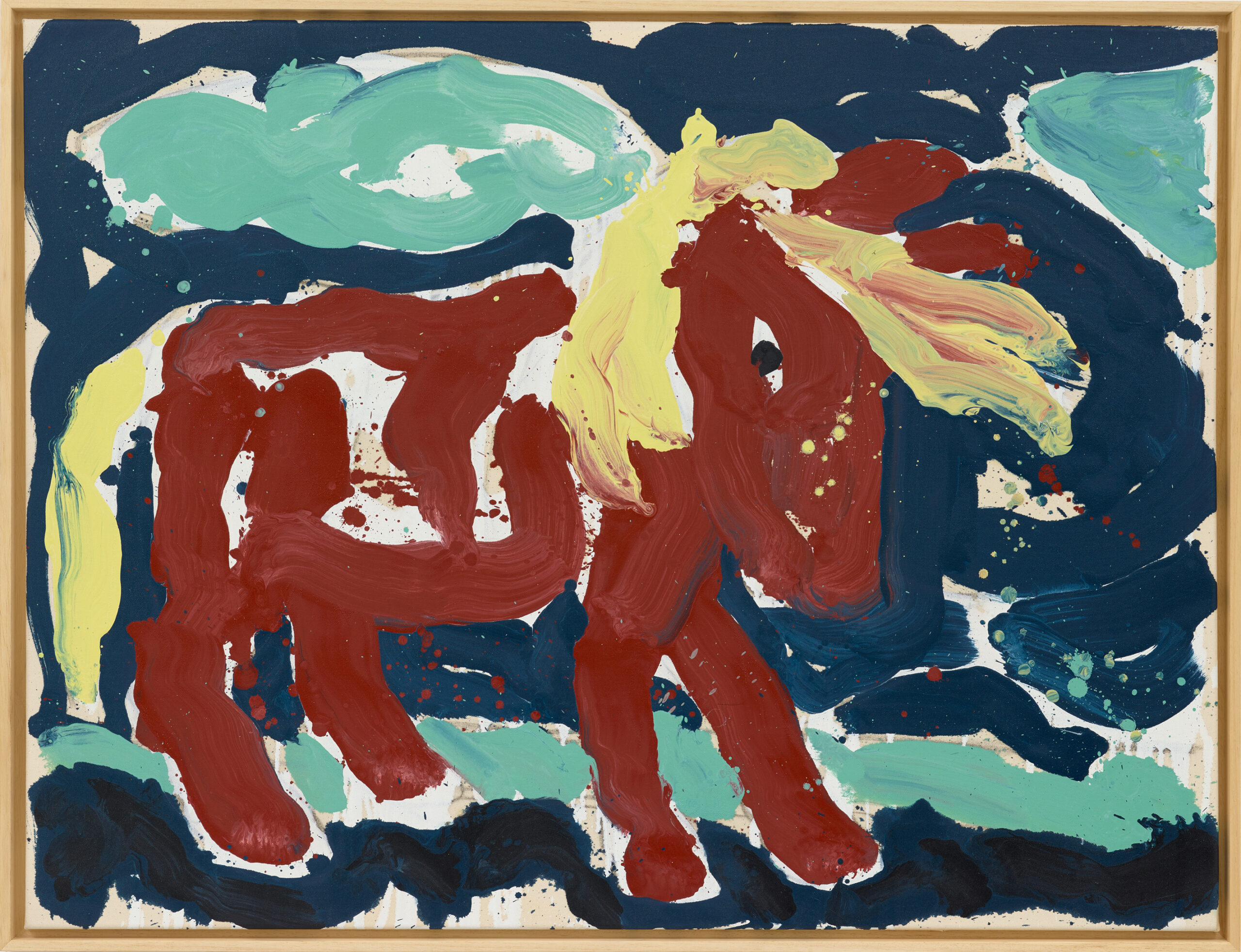 Do you remember any artists as a child that captured your attention?
The most important artist of my childhood was my mother, who was a keen draughtsperson and sculptor. She made figurative sculptures of animals and drawings too, and was certainly an influence on me. Once we lived in Scotland our nearest neighbour, a few miles away, was the artist Rob Fairley, and he gave me really great early guidance on what to look at, how to develop my ability, and the general processes of the studio environment. That was a real gift. My idea of what it means to be an artist is perhaps a bit clichéd and old-fashioned, but I do love the kind of artist who makes paintings, drawings, prints, and sculpture. And so Picasso, Modigliani, and Matisse were important to me for how they embody the idea of prolific practice across a variety of mediums. Having said that, when I went to college I studied film instead of traditional fine art, and as such, filmmakers have had a big influence on me.
I have always been interested in both the commercial and the artistic sides of film practice because they test the medium in different ways. Hayao Miyazaki, the Japanese animation director, was a big influence on me early on for how ambitiously he sought to create an immersive world with each of his films. On the other side of the equation, the French filmmaker Chris Marker was very influential because he approached the camera and the process of making films in such an idiosyncratic way. When I watch Chris Marker's films I feel like I am inside the head of the artist at the moment an idea is forming, and he creates a powerful sense of art as a process of simultaneous looking, thinking, speaking, and doing. In all my interests in art the unifying element is movement, either the total absence of movement and an atmosphere of stillness, or a kinetic quality that is powerful and compelling.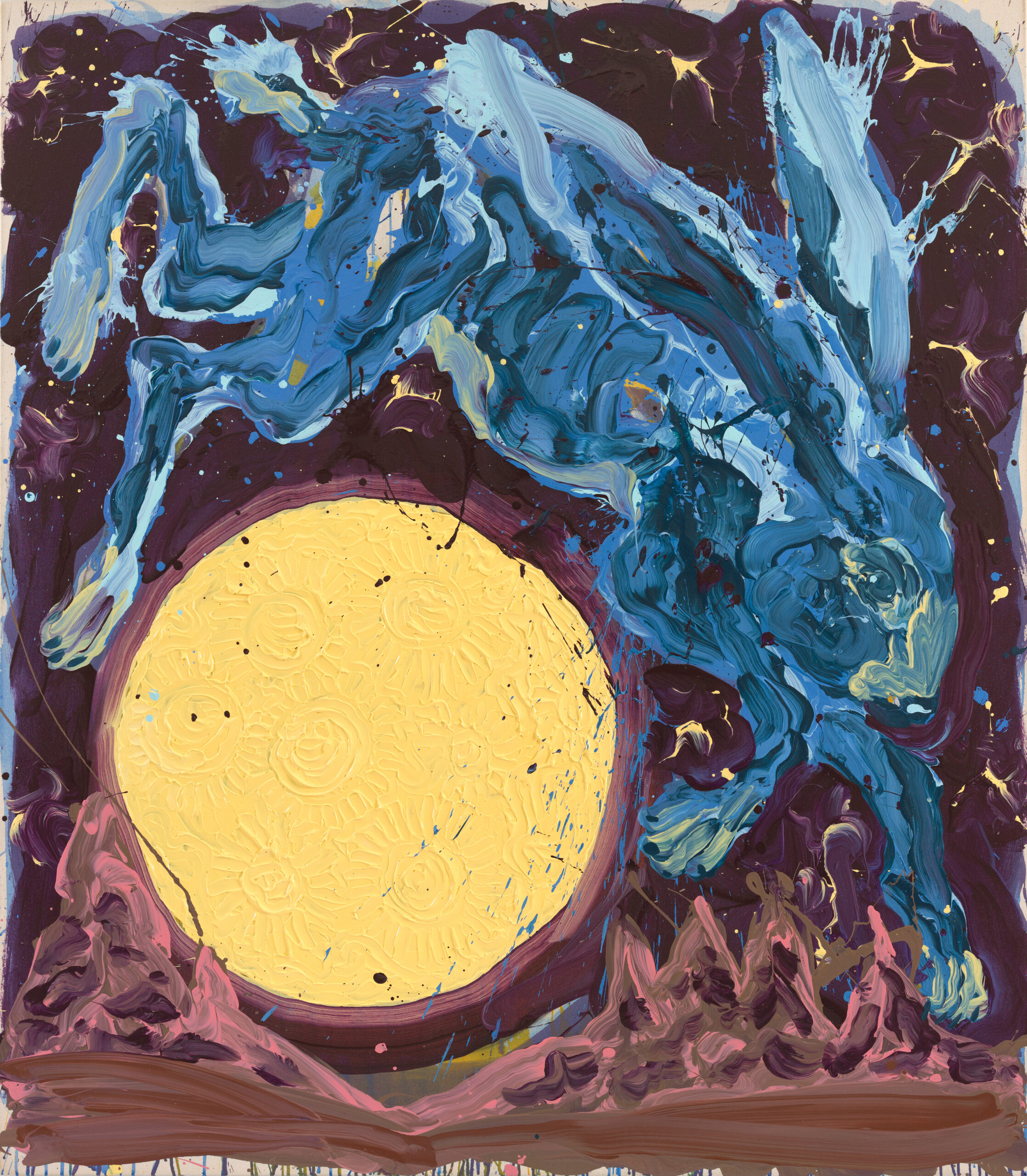 Any artists today that you are looking at?
I look at a lot of contemporary art all the time, especially painting. I see the process of looking at art as part of the job; I want to feel plugged into the activity of other contemporary artists and have a sense of my work in relation to theirs. Having said that, while I am looking at this kind of contemporary work I try not to engage with it fully because to do so can easily overwhelm me and negatively impact my process in the studio. I try to maintain a measure of distance. I think the period of our history that we are in allows for tremendous referencing across a huge span of time and geographic space. And yet, painting remains fundamentally the same, applying some kind of medium to a surface to create an effect or sensation or to create a language. Without trying to sound intentionally grand, I have to say that my focus is not so much on other individual artists as it is some kind of bigger picture that takes into account all the activity across painting, contemporary art, and so on, in the broader context of culture. I tend toward the macro, zoomed out view, because I am part of the first generation that was raised completely within systems thinking.
When I think about the impact of technology on individual people's lives, changing geopolitical struggles, climate change, and so on, I think that the lives of people are changing so rapidly that, obviously, for almost everybody, the experience of their grandparents' generation has very little relation to the experience of the current generation. And so, we are faced with the choice in the world of art, and especially painting, which is – are we a force for continuity and stability, or are we tasked with documenting the rapid change and unpredictability of the world?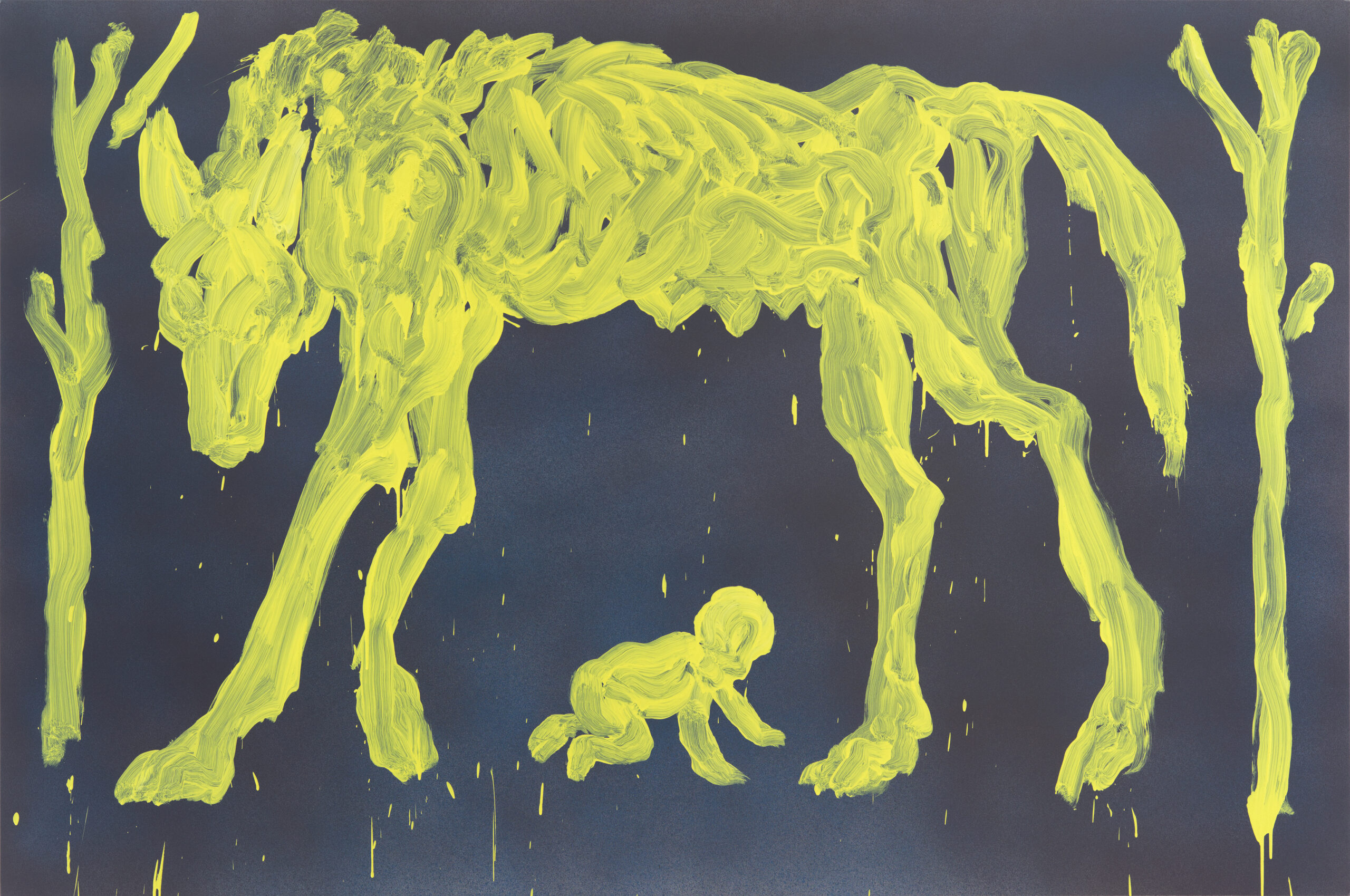 I do think seriously that technology competes with art in our society as the primary means of making sense of and recording experience. The attention economy has changed art. I think the shift toward software innovation and hardware innovation and developments in artificial intelligence simultaneously create a new kind of technology which penetrates personal experience that much more deeply and can play the role of art within the realm of individual experience as a reflective and sense-making principle. Part of me thinks that art needs to step up to the challenge of technology and make a case for itself. On the other hand, I feel that art expresses its core principle when it perhaps fails and, in so doing, falls into its proper place in relation to other things as a kind of pathetic truth that speaks to human fallibility.
You have spoken of your interest in human experience onto the natural world. Can you expand on this?
So I paint natural subjects, in particular animal forms. But I do not think of nature as a taken-for-granted shared idea. It is clear from the green and ecological movements that making an appeal to a shared sense of nature is profoundly problematic, and that cultural boundaries and also individual differences play a role in how people relate to the living world around them. I am skeptical of any notion of innocence associated with nature as some kind of pure condition, and I think that this is a product of human ideology. The creatures that I paint are caught up in our human problem, which is the separation from the world caused by consciousness. The way in which my animals look at the viewer deliberately sets up a feeling of intensity, perhaps troubled engagement, a kind of accusation or affection. But in every case the creature possesses a trace or residue of conscious agency. I try then to echo that in the way in which I paint, where I combine deliberate drawn marks in charcoal with very deliberate gestural paint marks, but then also haphazard splashes, drips, and smudges, which within a history of art have been differently associated.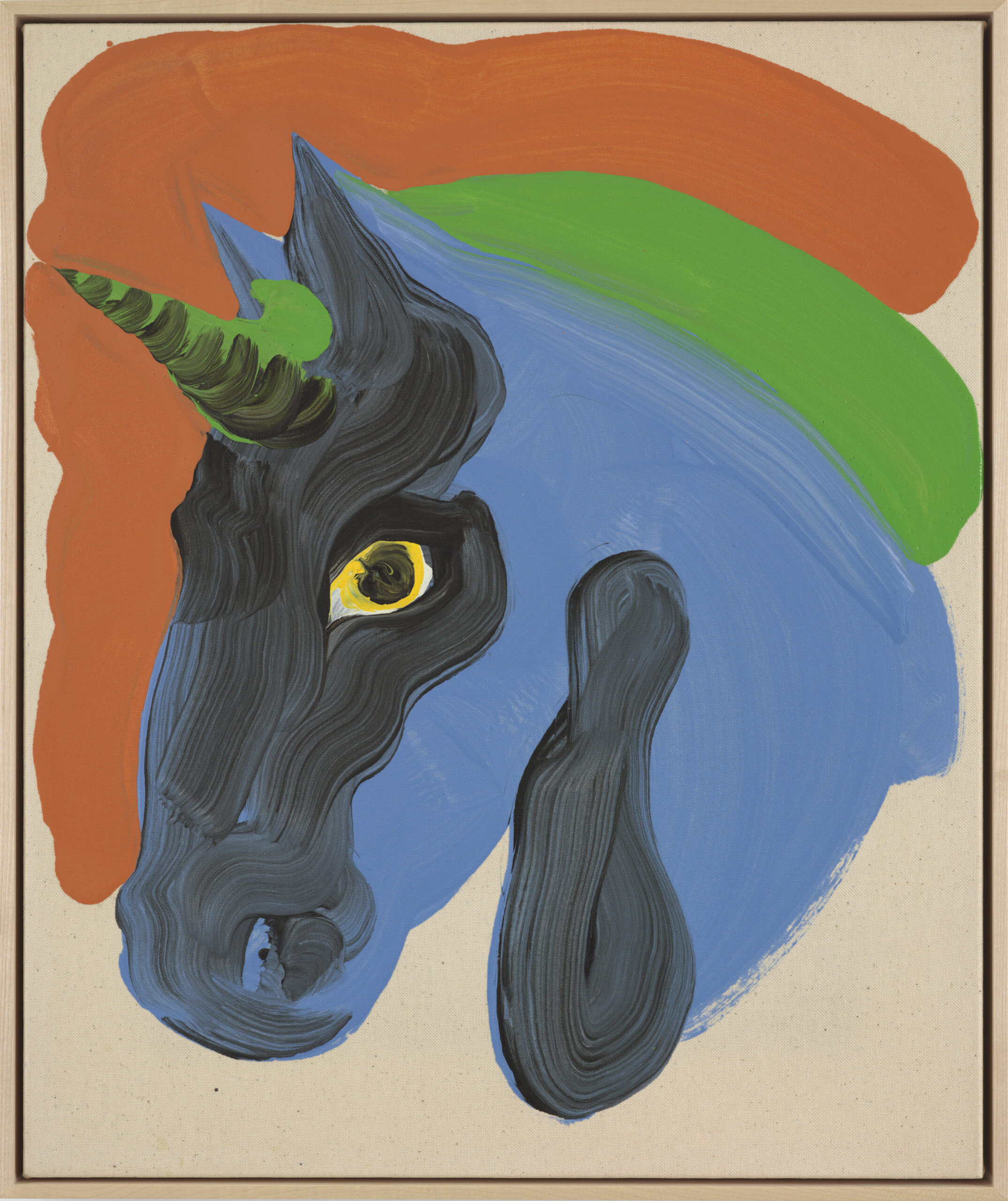 There are associations in my work to trajectories in contemporary painting that can be thought of as cute figuration, American action or gestural painting, Zen calligraphy and much more, perhaps. But in these areas that I rub shoulders with, the problem of consciousness and being is front and centre to the activity. I give this problem an animal body like a kind of Trojan horse.
You are very prolific. How do you stay motivated?
I think of art as a kind of biopower that utilizes a certain amount of creative, psychic, and physical energy each day. On top of that, there is, of course, the moral and ethical attitude to work that one gets from one's upbringing, and this certainly plays a role in my approach to art. I am a working class kid whose parents 'got on with it' every day. The primary way in which people get a view of what I do is through photos from the studio and work on Instagram, and while I do not think such things are outright deceptions they certainly do give an impression of a day-to-day process that is much easier and forthcoming than it actually is.
I do work very hard and struggle a great deal, trying to think about the question of what is possible and credible in contemporary painting, and this might seem quite laughable from the outside since I paint horses and birds and dogs, but I can accept the embarrassment that I feel in making this claim. Through my work I try to see what is left to do in art, and the ways in which we might put these remains together in some kind of structure fitting to the place of painting in this unravelling world.
What are your biggest challenges?
The big challenges of my work relate to the process through which I remove self-consciousness and hesitation from the painting in order to make space for something credible to emerge that can surprise me and give rise to new feelings. I often say that it is important to not try to do everything in one picture, and over the years my work has emptied out to a great extent. The things that I am looking for in a successful picture do often come down to the relationships between colours or the sensation of a particular set of marks within the overall picture. I do generally take the view that the painting should work in three ways: firstly in its detail, secondly in its impact at the moment you see it, and thirdly in its slowly evolving gestalt. I am happy to discover ways of wedding these three approaches in a picture that is sometimes described back to me as shockingly modest or simple, or elsewhere as messy and disorganised. My day-to-day challenge is in trying to extract these successes from the work that will stand up to the scrutiny of another person's eyes.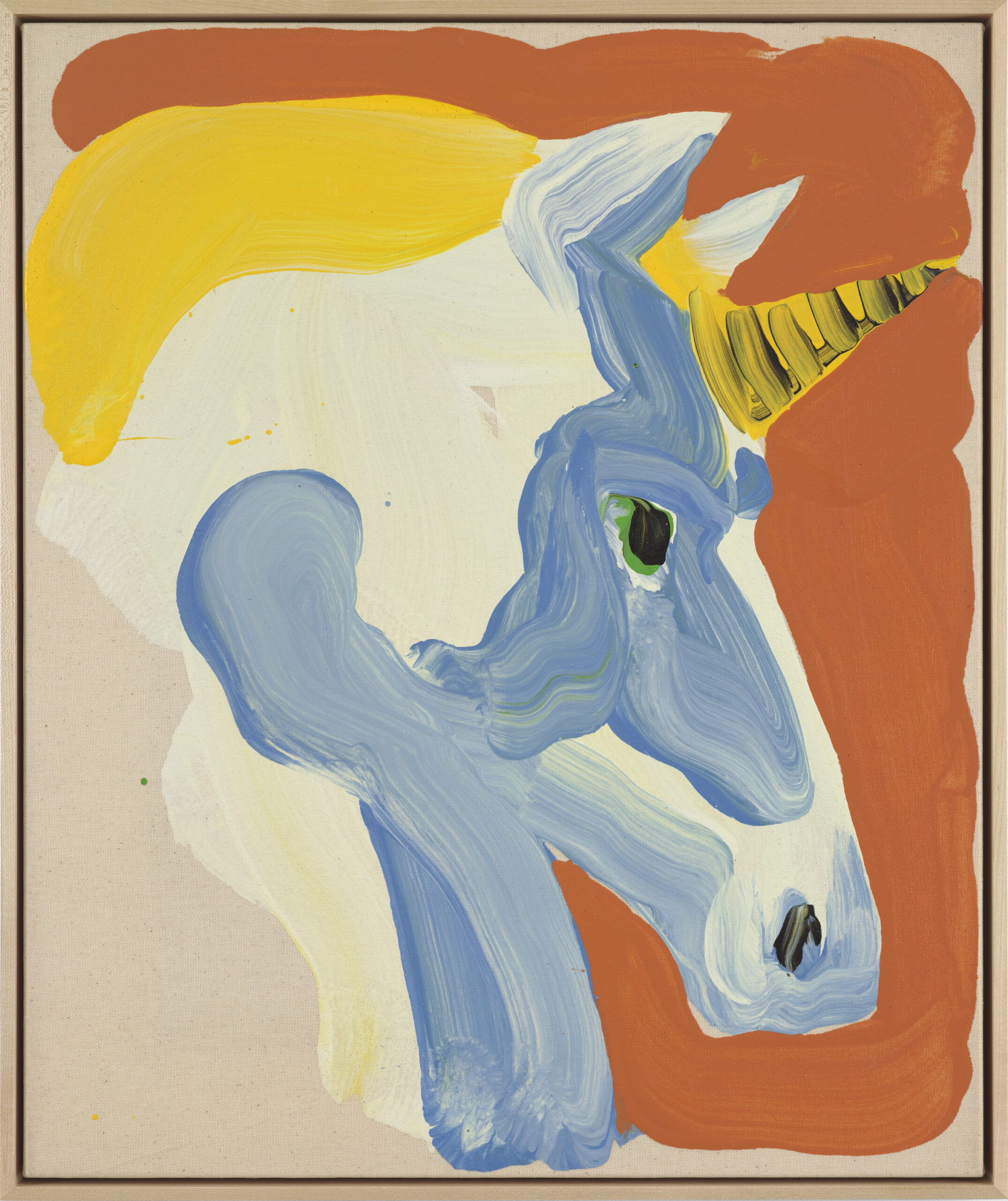 How has your background as a filmmaker influenced what you do today?
When I studied film in the late 1990s it came at a time when painting was not the dominant art form within contemporary art. Time-based media, installation art and performance were all much more commanding of the general conversation in art and painting had been somewhat relegated to a back seat. I approached film with a somewhat split interest in both art and the more commercial aspects of filmmaking—and so to answer your question, film gave me a tremendous sense of craft and of the power of doing things in the tried and tested proper way in order to create an effect. At the same time, experimenting in film is so institutionalised at film school it also gave me a clear sense that while one learns such rules, one should also accept that it is important to break them in effective ways. If I had to reduce film to a key principle that influences my painting I think it is 'the shot' and the extent to which a shot emphasises or de-emphasises the space outside of the shot and thus gives itself a focus. Film is about building an illusory 'bigger space' through an accumulation of shots in the mind of the viewer. For me, this experience in film clarified the function of painting, of post-photographic, post-filmic painting, to focus on the problem of what is in the painting, that is, within the rectangle of the canvas and the totality of its effects. The kind of painting associated with the photographic crop or the film still has never really made sense to me as anything more than it is a kind of interesting footnote in the history of painting.
What is your normal studio practice like? Any routines or superstitions?
When I am in the studio the only common element that I can really attest to is the need for music as a kind of activation of me and the space. Music plays a powerful role in tricking me into thinking that a new painting is possible, and sometimes it works. Beyond that, I can say that I get to the studio late in the morning and if I have a canvas ready I will first make a charcoal drawing. Other times I will start by marking the canvas with some kind of initial thing, then I will brush it off, or lay it down and put it in a position, and then go for lunch and think about it. After lunch I will then generally mix colours for quite a long period of time while looking at the initial drawing and create a kind of set of emotional and impactful colour goals. Once I have the colours mixed and I am feeling good about the painting I will then generally execute the painting in one session, though more recently, I have taken to working in additional sessions. It does not really matter. I do not want to give any sense of some kind of romantic reverie about my process; it is always stressful, and I feel a lasting and antagonistic relationship to the painting—until that transitional moment emerges when it becomes clear the momentum of the work is leading toward some kind of success.
Can you describe how you develop a piece?
I described the step-by-step process of making much of my work, but perhaps I can say something about some other aspect, for example, the importance of silhouette and pose within the overall composition. When I am visualising my paintings in my mind a great deal of concern is devoted to the organisation of the limbs with regard to the position and pose and also the head, which contains the all-important eyes. The visual weight of these limbs, the body, the head, and so on are important because they create the character of the work, but also they define the negative spaces between and around the figure, and this negative space is its own characterful object. It asserts itself in its own particular way, and I give it a great deal of attention as I always want the figure and its surroundings to interpenetrate without closure. In recent years I have used the compositional model of the centrally placed figure filling much of the canvas, which may appear simple, but in fact, contains perhaps the greatest visual power if one is careful to fine-tune the placement of the elements as I have described.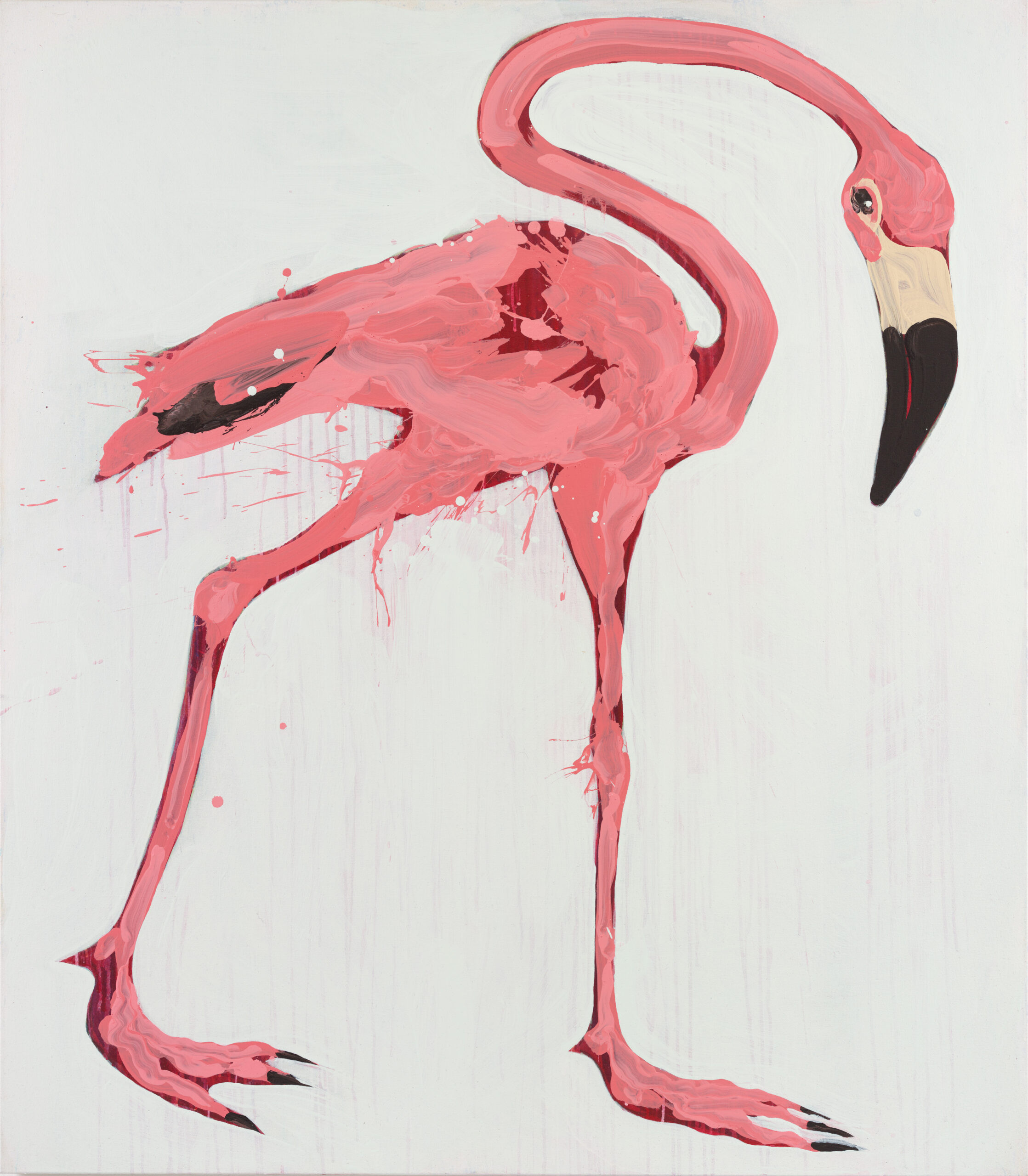 Are you more concerned with the process or the end result?
I tend to think of the process as a kind of internalised thing that, when observed, can produce a great deal of embarrassment, like going to the toilet or brushing one's teeth. I do not really have any romantic connection to the idea of process. For me, I simply think of the accumulated ways in which I can make an effective image, and so long as I am in the proper state of mind I am able to access those things and make the picture I want to make. Having said that, sometimes the end result that I intend to create is suffused with an atmosphere of failure or a kind of internal collapse that might appear to others as an unsuccessful painting, but this is a risk I have to take in making the work that I make. The inclusion of paintings that perform failure are part of painting at this moment. I am only concerned with the end result, but the ending of a single painting is not really the ending, so it adds up to being concerned with successive endings, which is ironically a very filmic concept – like getting successive shots in the can.
What excites you the most about the current art world?
The most important aspect of the contemporary art world that we find ourselves in is the connectivity between artists and their ability to create networks of activity and shared momentum. Beyond that I see an art world that has been totally overtaken by the cultural effects of global finance. This brings pressures and interpretations that are negatively impactful on the individual artist and also creates a kind of entertainment culture out of the financialisation of art. But when I enter into a dialogue with an artist on the other side of the world and they appreciate my work, and I feel the eyes of an audience from another culture looking at my work and reporting their experience to me, I think that is tremendously exciting and makes painting feel like a worthwhile pursuit.
Finally, what is your favorite color?
Any of the primaries when put next to either a grey or a flesh tone. Doing this always feels like the beginning of a serious picture worth making.