Mott Projects 16-18 Livingston St. Catskill, NY | mottprojects.com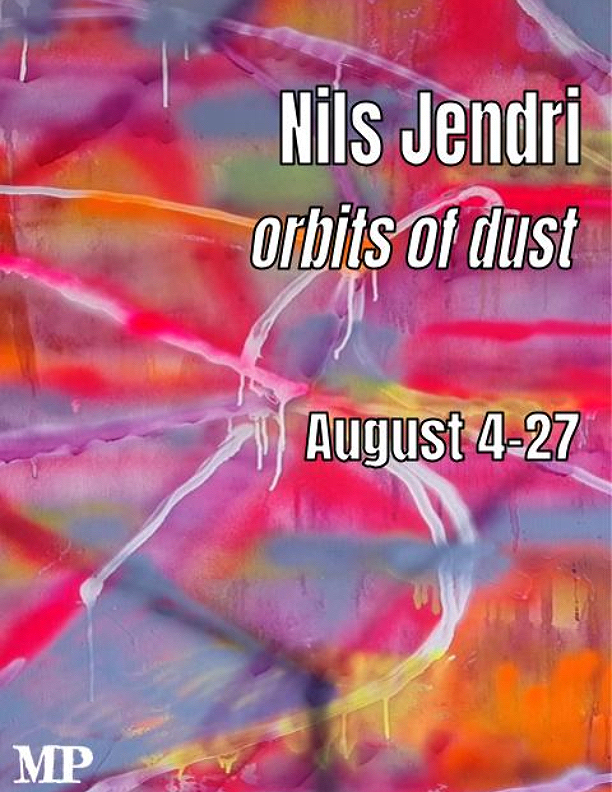 Mott Projects is pleased to present orbits of dust, a solo exhibition by German artist Nils Jendri. This is Jendri's first solo exhibition in New York and the United States. Join us for an opening reception on Friday, August 4th from 6-8pm. The artist will be in attendance.
orbits of dust consists of seven new canvases that build upon Jendri's exploration of space. Using lacquer and acrylics Jendri layers each canvas in abstract patterns, often utilizing spray paint as the final layer in his blissfully composed ethereal atmospheres. Relying and acting on feeling and instinct he moves through each piece as forms, lines, colors and compositions appear and take shape. The work hearkens back to his graffiti past yet arrives decidedly fresh, an autonomous echo within the canon of Painting – an echo that emerges as an orbit of dust.
Nils Jendri (b. 1980) lives and works in Freiburg, Germany. He received his Doctor of Philosophy from the Academy of Fine Arts in Vienna, Austria; his European Media Master of Art from the University of Portsmouth, United Kingdom; and his degree in Visual Communication from Merz Academy in Stuttgart, Germany. His work has been exhibited at Omni Gallery in London, Contemporary Cluster in Rome, Shit Art Club in Los Angeles, and LaVelleé in Brussels.
Gallery Hours
Sunday 1-5pm & by appointment