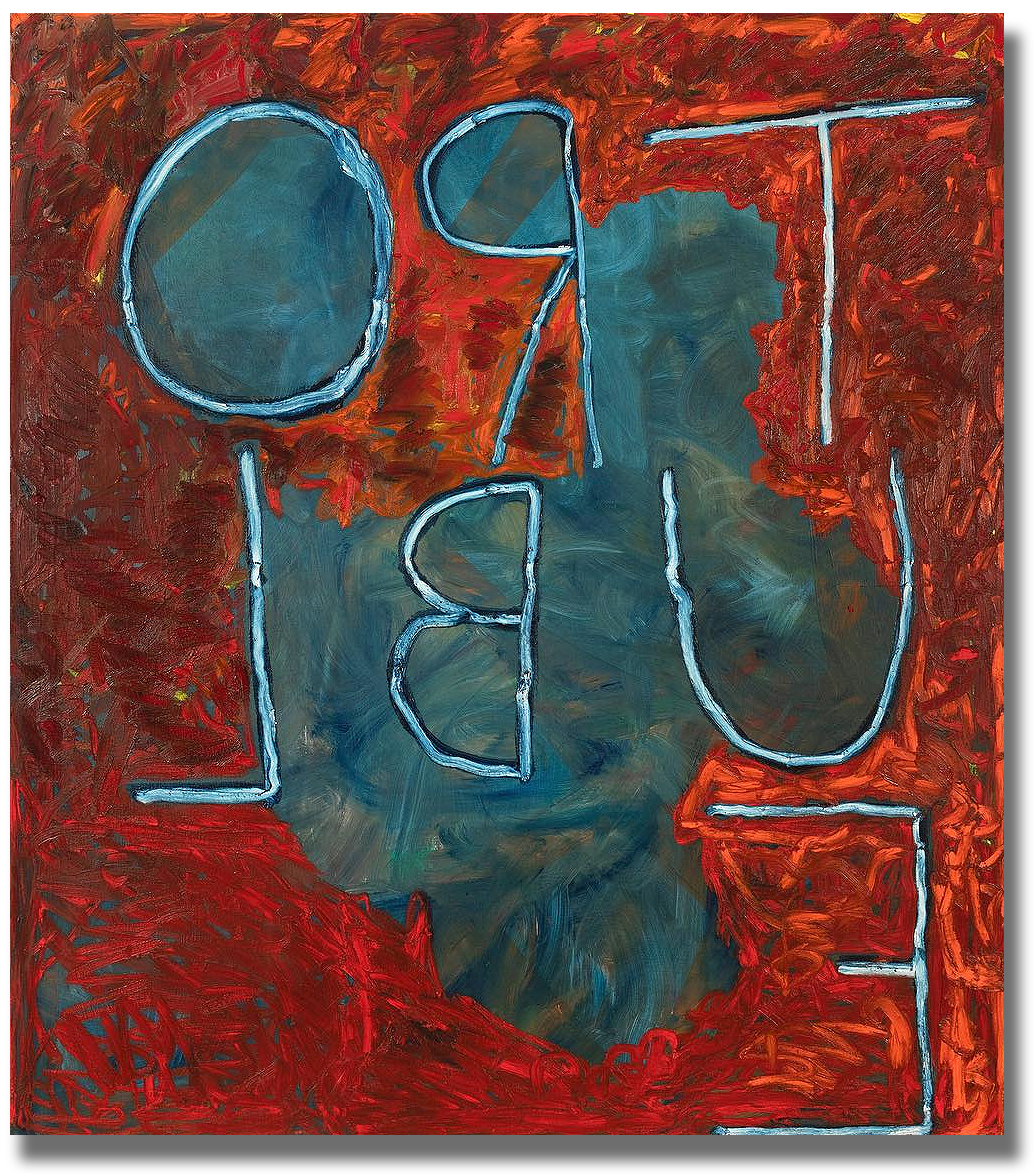 Samuel Jablon sits down with Erik Sommer to talk about his background in poetry, Joan Mitchell, feeling optimistically doomed, and taking his work to the next level.
(ES) First, describe your work for us.
(SJ) My work is about poetry as much as it is about painting. I want to push legibility to be almost illegible or at least difficult to read. This makes the painting have a slower read, and opens this back-and-forth between reading and seeing. When I have a solo exhibition I like the whole show to create a poem.
Tell us a bit about your background. Where did you grow up?
I grew up in upstate NY in Binghamton, and went to undergrad at Naropa University to study poetry at the Jack Kerouac School of Disembodied Poetics. After that I came to Brooklyn to do my MFA at Brooklyn College where I focused on combining my poetry practice with my paintings.
Where do you live and work now?
I live and work in Brooklyn.
How do you think this has influenced your work?
The art and poetry communities are both constantly inspiring. It is amazing being surrounded by creative people all the time.
Do you remember any artists as a child that captured your attention?
Joan Mitchell always captivated me as a child.
Any artists today you are looking at?
Stanley Whitney and Joyce Pensato are two of my favorite painters.
Do you read or perform your poetry in public?
I used to perform a lot more, and have done readings at the MoMA, Queens Museum, Union Square, and more recently at NADA and Art Brussels. It is something I would like to do more often.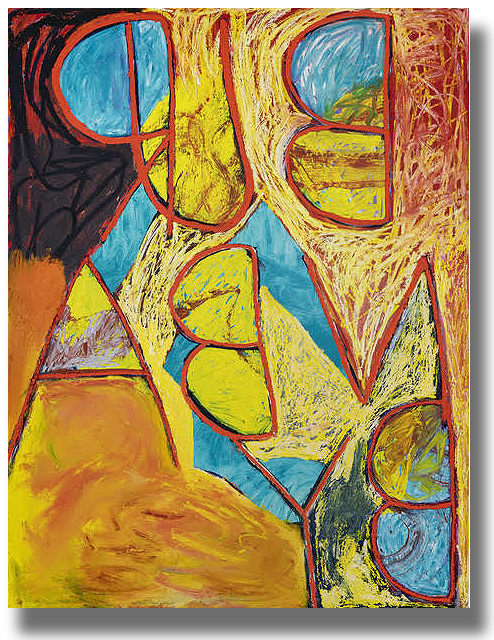 Are you more concerned with using the text in your paintings as compositional elements or as ways to convey messages?
The text is really important to me while I am writing, but once I start painting all I care about is the paint.
Your work is vibrant yet the phrases you include can be dark and ominous. Is this on purpose?
I have always felt optimistically doomed.
What is your normal studio practice like? Any routines or superstitions?
I get to the studio, have a coffee and look at the works I have in process. I'll stare at them for a while, and then organize the paint and colors I am thinking of using for the day.
What about your working technique? Walk us through how you start and then develop a piece.
I will start with a list of phrases I have collected from things I overhear or write myself, and then I will start a series of paintings. There tends to be many layers of paintings that get covered over or erased; each painting takes me a couple months to finish. There is a lot of back and forth between erasing and painting.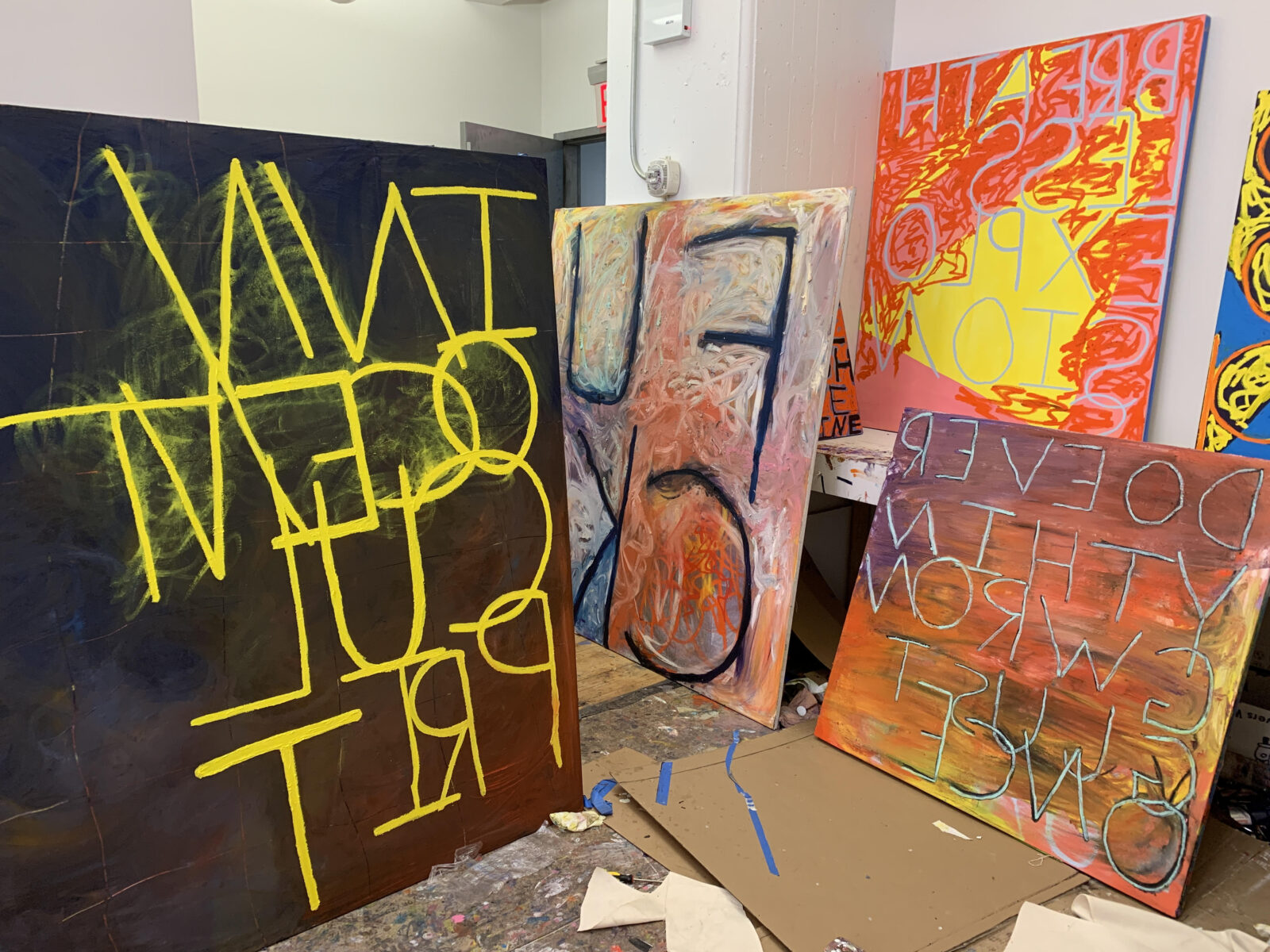 What excites you the most about the current art world?
We live in a really challenging moment and what I find most exciting is when artists just go for it, and take the work to the next level.
Any book suggestions?
Sun Ra: The Immeasurable Equation.
Any recent or upcoming projects?
I have a two person show opening in January at the Landing in Los Angeles with Mike Cloud.
Finally, what is your favorite color?
Red.