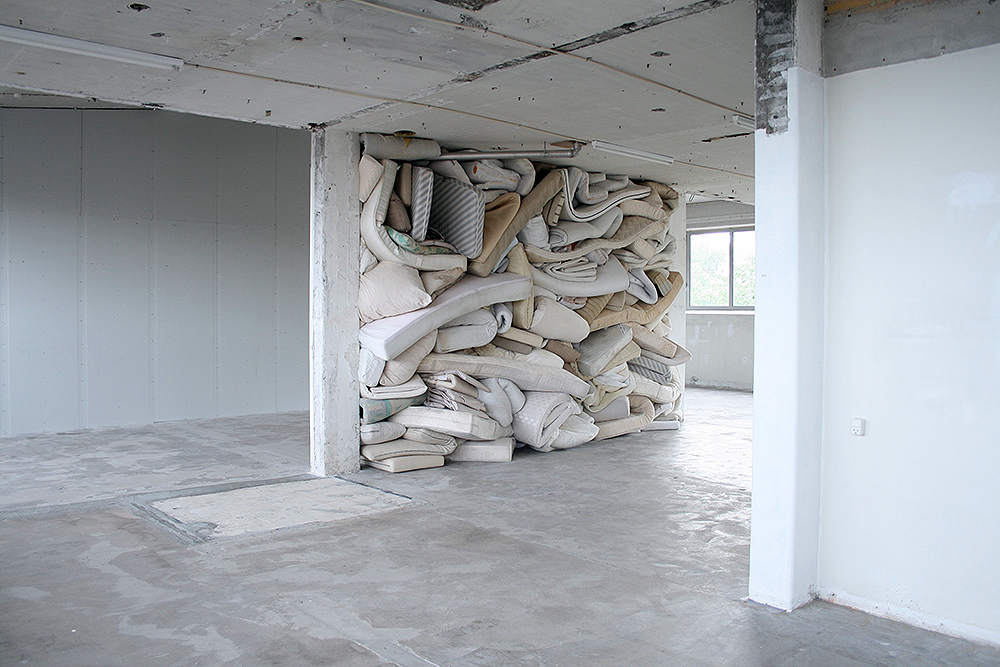 Charlotte Thrane sits down with Erik Sommer to talk about negotiating space, her love of upholstery foam, surprising herself in the studio, and her need for physical activity.
(ES) Describe your work for us.
(CT) I often work with clothing and household textiles because we use them daily and therefore have in-depth tactile experience with them. Used clothing, towels and mattresses contain visible and invisible traces of the people that used to wear / use / lie on them, and the works become archives of this usage and the bodies involved. The different textures, surfaces and colours meet, and together they form a unified whole. Like when layered bricks form a wall. Every work is an experiment, a test of the material. What can it do? What can I do with it? How can I push its qualities? What will it look like if …? This curiosity is what drives me.
My work is primarily sculptural, and is often developed in response to a particular space. I use architectural and interior spaces to create visual references to human relationships and intimacy. Physical structures, the gaps between them and the material I might stuff in there, become physical interpretations of the ways in which we relate to each other. All of my work relates back to the body and personal experience.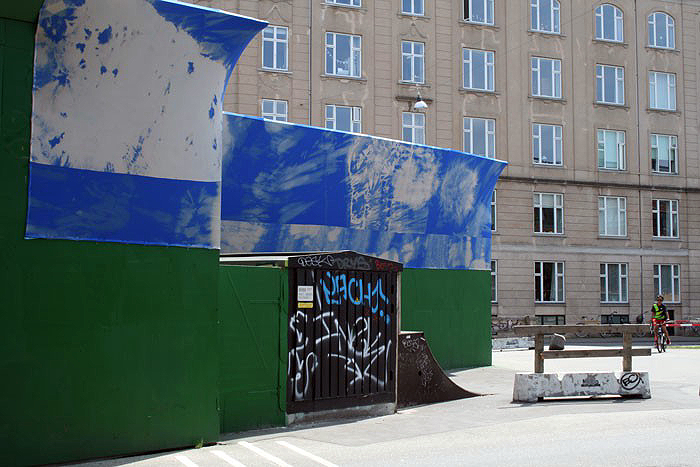 Tell us a bit about your background. Where did you grow up?
I grew up mainly in Copenhagen with a very young single mum, and we moved around a lot. I went to many different schools and never really settled before we were on to the next place. For that reason I always felt -and often still feel like- I am on the outskirts of things. Like I am observing it all from a distance.
Where do you live and work now?
After 15 years of studying and living in London I am now back in Copenhagen, where I live and work. I am back home in the village.
How do you think this has influenced your work?
My upbringing has definitely influenced my work in the sense that I always return to the importance and power of emotional relationships. Again and again I attempt to give intimacy and closeness a physical form. I think that my work is an attempt to connect with others, to make visible the emotional connection I wish to make but have a hard time making.
Do you remember any artworks or artists as a child that captured your attention?
As a child I never went to galleries or museums, and I did not know that you could be an artist by profession. But I was always working creatively, making things in my room or in the after school club. I was drawn to people who were making things and using their hands. My stepfather's parents were creative; the father made ceramics in his spare time in the basement and scrapbooks from newspaper cuttings, the mother was sowing, mending, weaving and embroidering. They were also doing a lot of gardening, cooking and had been involved in designing and building their own home. That kind of making was a great influence on me, and still is. Creating something yourself and developing new skills, and through that developing a better understanding of how the world around you is constructed.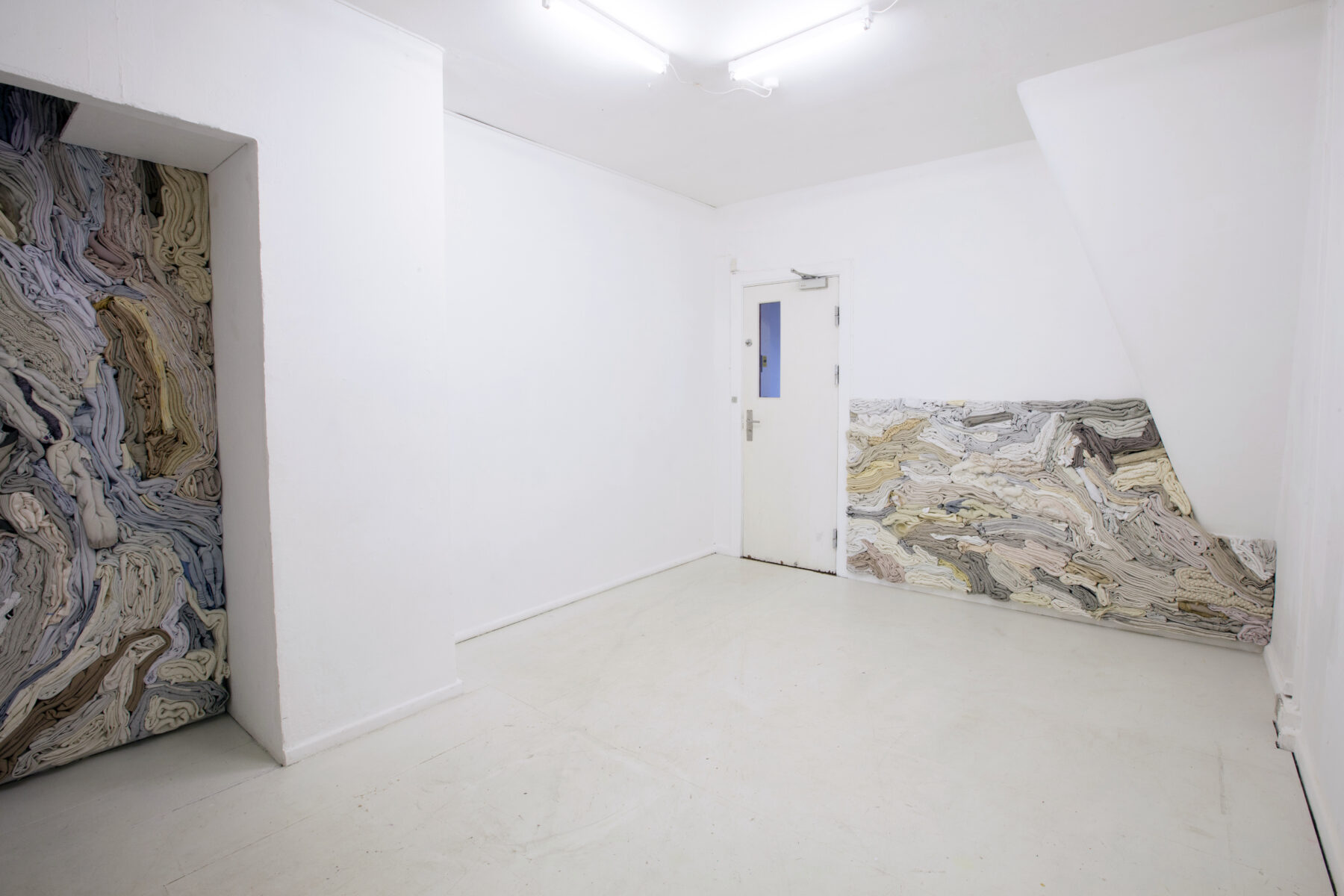 Any specific artists you are looking at today?
Oh yes. Lynda Benglis is an all time favourite of mine. I studied under professor Phyllida Barlow at The Slade School of Fine Art in London, and worked with her on a longer project after art college, so she has been a huge influence on me, and still is. Other artists whose work excite me for different reasons are Trisha Baga, Karla Black, Raoul De Keyser, Martin Creed, Tiril Hasselknippe, Eva Hesse and the Danish artists Willy Ørskov, Ib Braase and Magnus Frederik Clausen.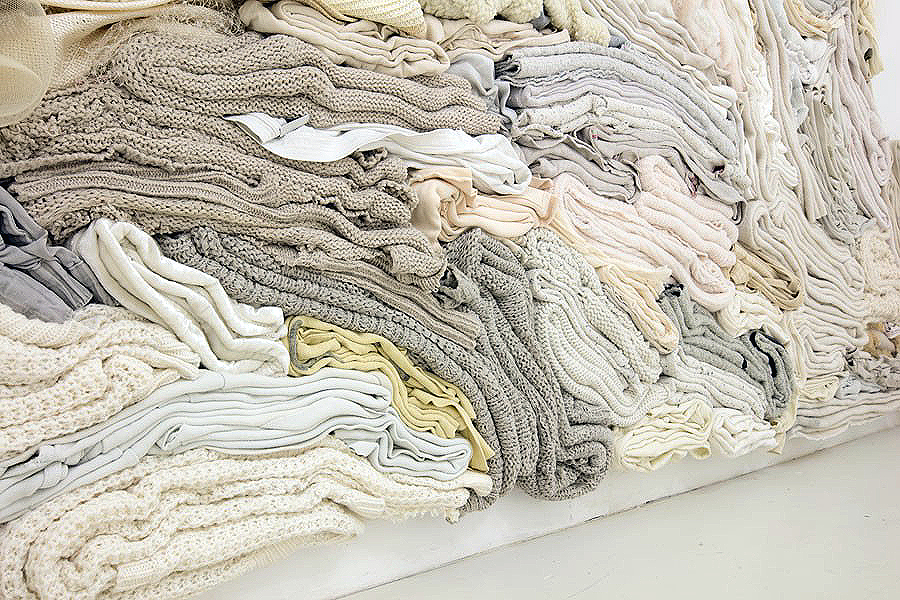 Your sculpture includes a lot of physical activity- folding, stacking, kneading, stretching- while the finished work often appears firm and solidly rooted in place. Is this on purpose?
The physical activities that I engage in are all physically demanding, yet loving struggles with material. By using my whole body in making the work I live through it and experience it physically, much like I experience different aspects of daily life. I think my inherent restlessness and all my doubts are rooted in this need for activity; physical activity allows me to get it out of my system and give it a physical form. Perhaps my need for making sculptures, firm and solid objects and installations, is also a need for establishing fix points, or a base of some kind.
How does the setting of a piece affect its relationship with the viewer?
The works are always a negotiation between the space, the sculpture and the body of the viewer. Sculpture is amazing in the sense that it competes with the space and objects surrounding it, and is experienced on equal terms with the world around it. Many of my works invite the viewer to see the space anew and experience it in terms of its proportions, colours, surfaces and previous use. The work establishes a dialogue between the materials of the setting and soft, flexible, more bodily materials such as mattresses or clothing. The contrast between the qualities of these materials underlines the relationship between the viewer's own body and their surroundings. I hope that this contrast invites the viewer to reflect on their presence in the room, in society, in the world.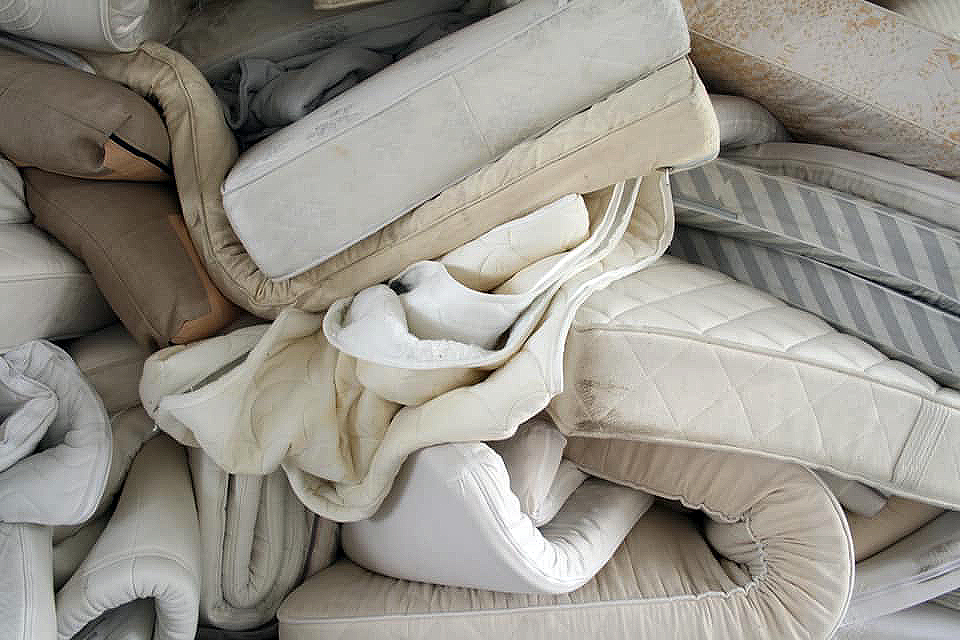 You appropriate common everyday objects and alter their basic functions. Are there any particular materials you prefer to use?
Upholstery foam has always been a favourite material. It is great to make sandwiches with, filling them with all sorts of stuff. Foam insists on expanding and taking up space, but can also be squeezed into a smaller volume and stuffed between things. Foam has many bodily qualities; it has a soft, malleable surface and develops folds, creases and wrinkles when you change its shape or position.
I also particularly enjoy synthetic blonde wigs. Long, blonde hair hints at female characters in unfolding stories, perhaps my own. I bleached my hair platinum blonde for many years.
Used clothing is also great. I am fond of caps, bras, tops and gloves, but am generally into all kinds of clothing because I enjoy the references to the bodies that have been wearing them and the narratives that are therefore inherent in them.
Are you interested in time or beauty?
In an interview Lynda Benglis once said: "There will always be a Puritan strain in society that gets nervous if things are too pleasurable, too beautiful or too open. That's the most significant legacy of feminist art; it taught us not to be afraid to express these things." For me there is a certain sense of freedom associated with expressing beauty without guilt or fear. Giving in to beauty, and to the enjoyment of it, is important. It can even be rebellious.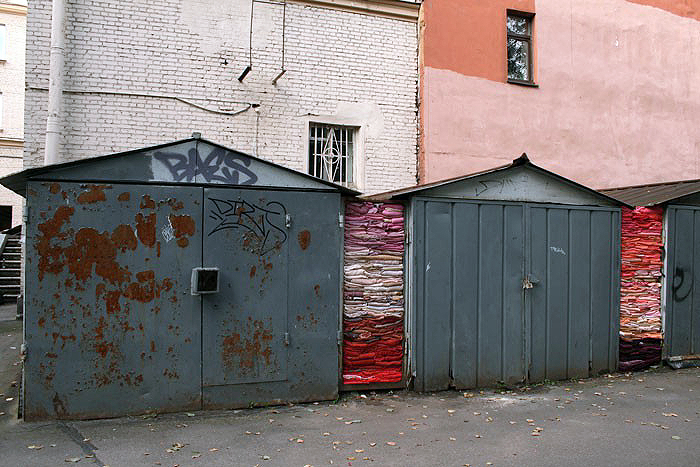 What is your normal studio practice like? Any routines or superstitions?
My studio time is scheduled around my children and family, so I work most days between 8am and 4pm. I really like routines, and I stick to the same schedule every day if I can. This can be down to little things like what music I listen to, what I wear at work or in what order I take out materials and tools from the shelves. Within all these routines I find little pockets where I try to trick myself to let go of my habits, in order to do something I am not fully in control of or did not plan. The aim of this is to surprise myself or see something new. If I manage to do this, it has been a good day at the studio.
What about your working technique? Walk us through how you start and then develop a piece.
There are two strands of my practice. One is the daily search for used material. Or perhaps I should call it an openness towards finding material. I am most often not looking for anything in particular, but I am always on the lookout for something interesting that I might pass by. In the studio I play around with different materials and objects, not knowing what the outcome will be. These activities must take place without a defined purpose; they are simply based on curiosity. Most of the time it is about doing something to something, and observing whether the two elements affect each other in interesting ways.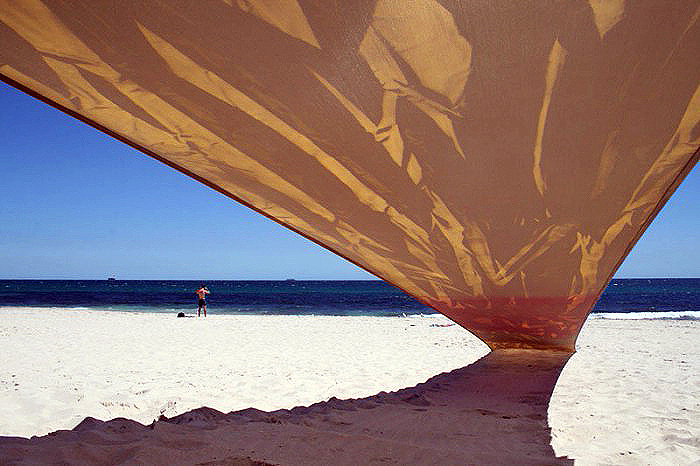 The other strand of my practice is responding to particular spaces or settings, whether they are architectural, urban or rural. This happens primarily on site by sitting, walking or cycling. It can also be through digital sketching on my computer, or through sketching on paper. This is a very intuitive process, and is something I do anyway, no matter if it is in connection with a particular exhibition or commission or just for fun. When developing a site-specific work the two strands can sometimes meet. This is when the characteristics of a material sit well with the characteristics of a space.
What excites you the most about the current art world?
The people I meet within it. I think that the most curious, compassionate, interesting, warm, eccentric, selfish and selfless people I have ever met are all from the art world.
Any upcoming or recent projects?
In March an exhibition of mine was supposed to open in Copenhagen, but the country closed down two days prior to the opening because of the Corona virus. It was very strange to have worked intensely on getting the works ready, and then not be able to show them. So we decided to keep the show open by appointment only. This resulted in a number of visits, which led to some great conversations. This experience became more rewarding than I expected it to be, even though it happened due to unfortunate circumstances. To have more one-to-one time with each visitor meant that we actually had conversations about the work, which does not always happen at openings. The show will now be exhibited in another exhibition space in Copenhagen where they host exhibitions that have been affected by the Corona pandemic. The series of exhibitions is called Shelter (Herberg in Danish), as they temporarily host otherwise homeless exhibitions. My work was made specifically for the other space, so this time I will be testing how a site-specific work might function in a different setting where it will mainly be seen through the windows.
Finally, what is your favorite color?
I always liked pastelly colours; light, soft and warm colours. An older male artist once said to me that he found my work "very girly" and that he meant it as a compliment. I found it very difficult to take his remark as a compliment, but with time I have come to accept the fact that I just really like these pleasant colours, like the ones you might find in a make-up kit containing eye shadow or blush. Whether they are girly or not does not seem so important anymore.