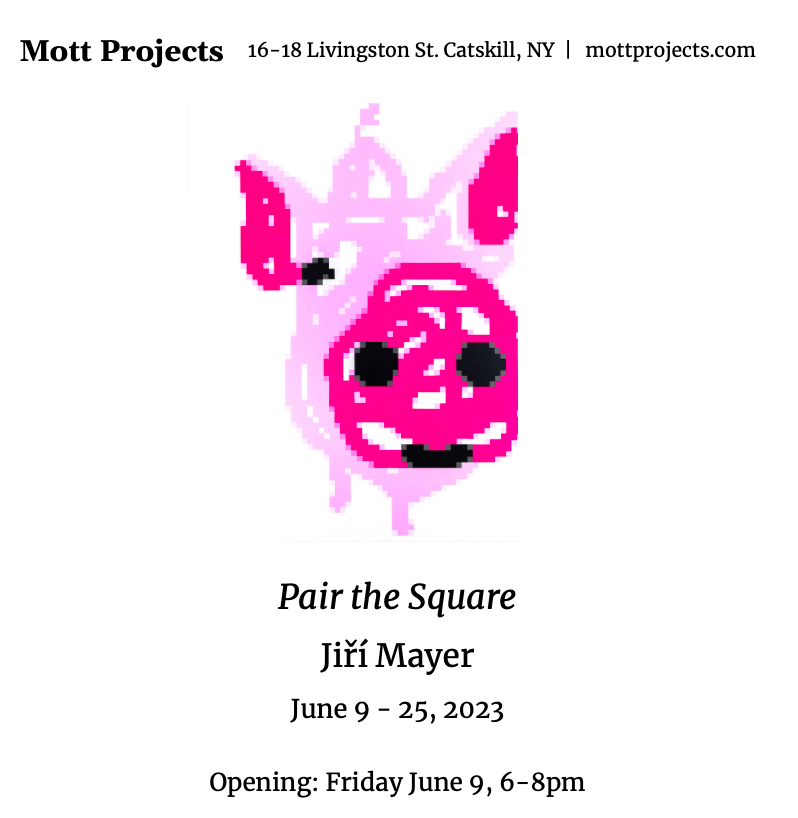 Mott Projects is pleased to present Pair the Square, a solo exhibition by Czech artist Jiří Mayer. This is Mayer's first exhibition in New York and the United States. Join us for an opening reception on Friday, June 9th from 6-8pm. The artist will be in attendance.
Known for his eye-catching paintings of animals, Jiří Mayer's work is immediately recognizable. Created by zooming in on sketches made in Microsoft Paint, Mayer transfers the resulting pixelated shapes onto canvas with finely painted acrylic paint. Finding inspiration from kids drawings, cave paintings and cartoons Mayer's use of the animal motif helps bring the viewer back to childhood, as animals are often among the first subjects that children draw. By exaggerating these drawings, and adding bright colors, mischievous poses and a playful sense of humor, Mayer succeeds in creating a sense of unified joy during these divided, uncertain times.
Jiří Mayer (b. 1990) lives and works Brno, Czech Republic. His work has been exhibited at HAGD Contemporary, Tuesday to Friday, Dudes and Barbies Gallery, and Spaza Space. This is his first solo exhibition in the United States.


Gallery Hours
Sunday 1-5pm & by appointment