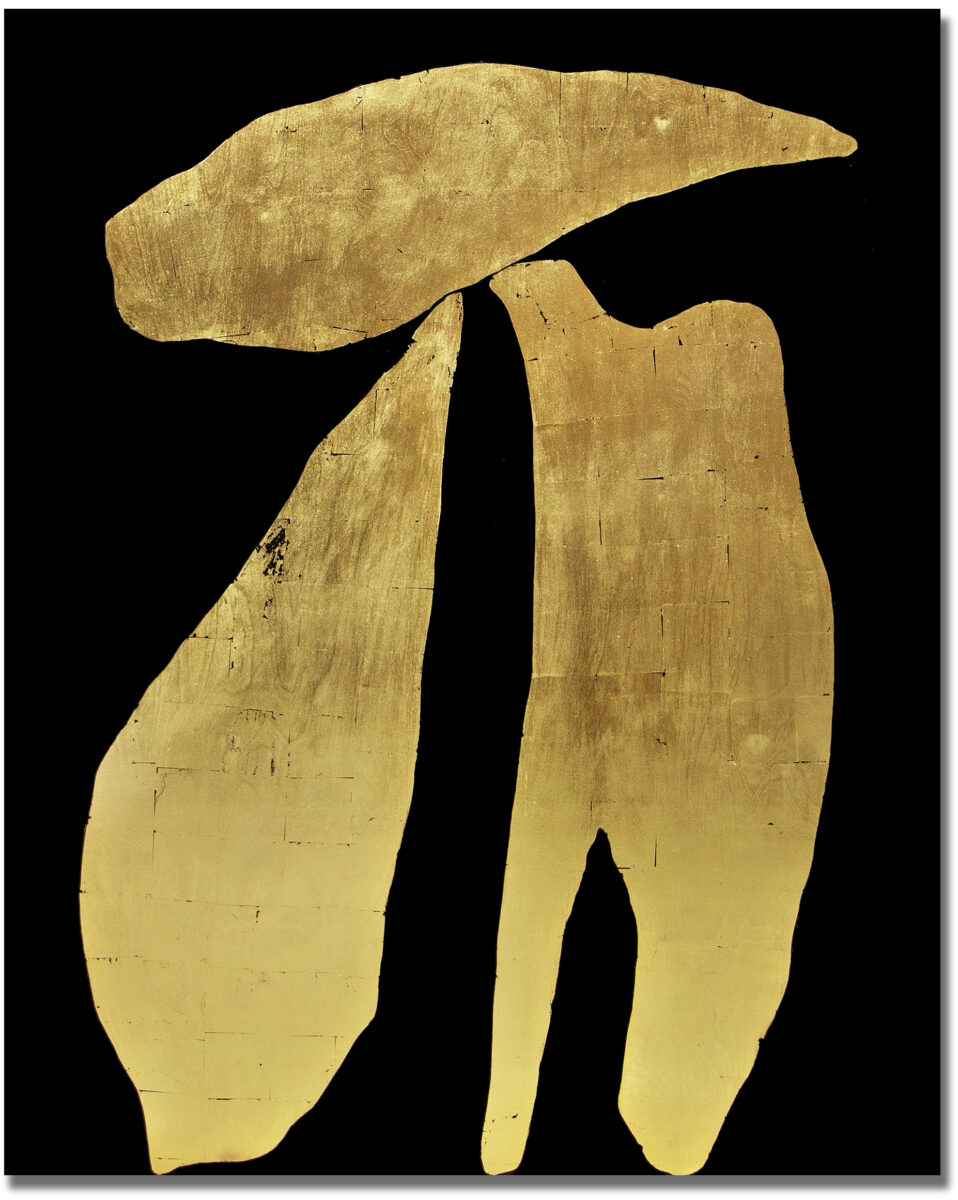 Anna Pietrzak sits down with Erik Sommer to talk about her background in architecture, how she discovered gold leaf, the importance of trial and error, and the positive side effects of cleaning her studio.
(ES) First, describe your work for us.
(AP) I try to capture moments of instability and vulnerability and expose how tensions carried internally manifest as outward gestures worn on our bodies. I like the honesty that these expressions reveal more than words. If someone's body language doesn't match their prose we are more likely to believe how they seem over what they say.
Tell us a bit about your background. Where did you grow up?
I was born and grew up in the Midwest in Indianapolis, IN. My parents immigrated there as refugees from Poland in the '80s after my dad was involved in an opposition movement called Solidarność (solidarity). Both of my parents are creative graphically and musically and really pushed me to develop myself artistically. I took a lot of classes on weekends and during the summer in middle school and high school drawing and oil painting at Heron School of Art. The classes were taught by the university students and offered to the public. Later I studied architecture at the University of Cincinnati, and supplemented my courses with drawing and sculpture classes offered by the School of Art, especially while I was working on my Masters Thesis.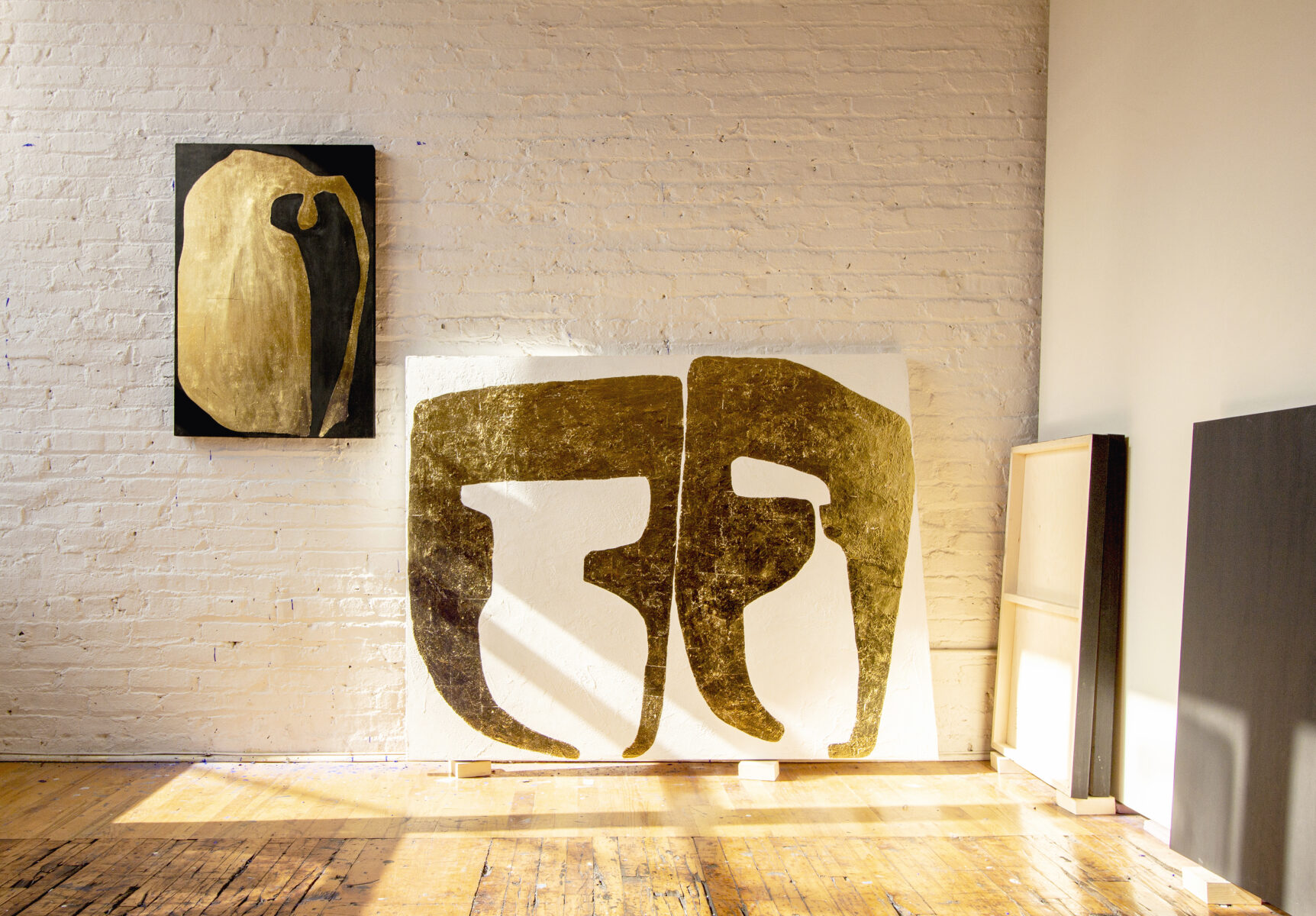 Where do you live and work now?
Now, I live and have my studio in Brooklyn, NY.
How do you think your background in architecture shows through in your work?
I like for the work to have a presence and inhabit the same space as the viewer; to be felt as well as seen. It is a little different position than the kind of painting that is meant to depict a scene and operate as a portal into another world. The work is also better when it engages in dialogue with light. These decisions stem from certain sensitivities I have developed in studying and practicing architecture.
You are known for using gold leaf in your work. How did this come about?
I was on a work trip in China, observing a building under construction. While I looked up to see the craftsmen gilding the ceiling, I thought there was something compelling not only in the appearance of the material, but to see this large surface made up of all these small, imperfect pieces. It felt handmade and painterly, and inspired me to research the process, buy materials, rent a studio, and begin a new chapter.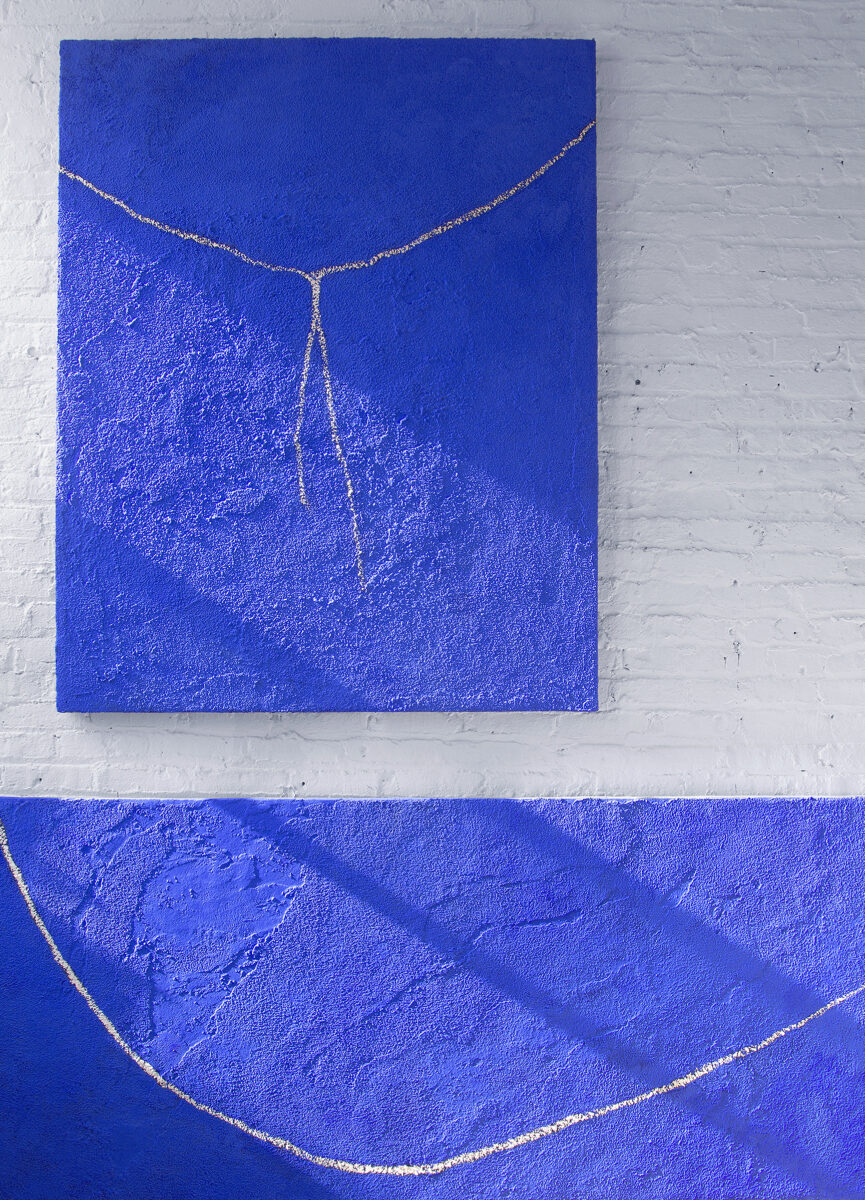 In your newer work you have started using a striking blue color. Where do you see this going?
Yes, you know, at some point you get an itch to expand your vocabulary and widen your palette. I have all these little "investigations" in the studio, small studies of various materials like shredded tires and resin pours to name a few. I painted a really small, blue piece made from mixing raw pigment with resin binder. The resin does not dissolve the pigment the way linseed oil or acrylic binder does, so the end result is a stable paint that looks as close to the original pigment color as possible. I had a friend come to the studio and have a really strong reaction to the piece saying, "that's not a color, it's an emotion." I can't say where things will go, but I do like to reflect on that declaration.
Do you consider your work to be abstract or figurative?
Within the spectrum of abstraction for sure, but with influence from figuration. I think body language and poses inspire most compositions, with some pieces being more or less explicit in the reference.
Are you more concerned with the process or the end result?
It is a lot of trial and error, the error part can be really frustrating and consuming, but is always met with equal joy and relief when the pendulum finally swings the other way. I try not to be rigid about the end result and think of it as direction instead of a destination.
What is your normal studio practice like? Any routines or superstitions?
I go into the studio first thing in the morning. There are so many obligations during the day, but the morning is kind of a sacred time for me to work. Since I share the studio with another artist, as a sign of respect, cleaning has become a routine. It has some good side effects too. It helps me focus and feel less confined, and I am much better at keeping track of my supply inventory, so I am less often buying too much of things I don't need or running out of things I do.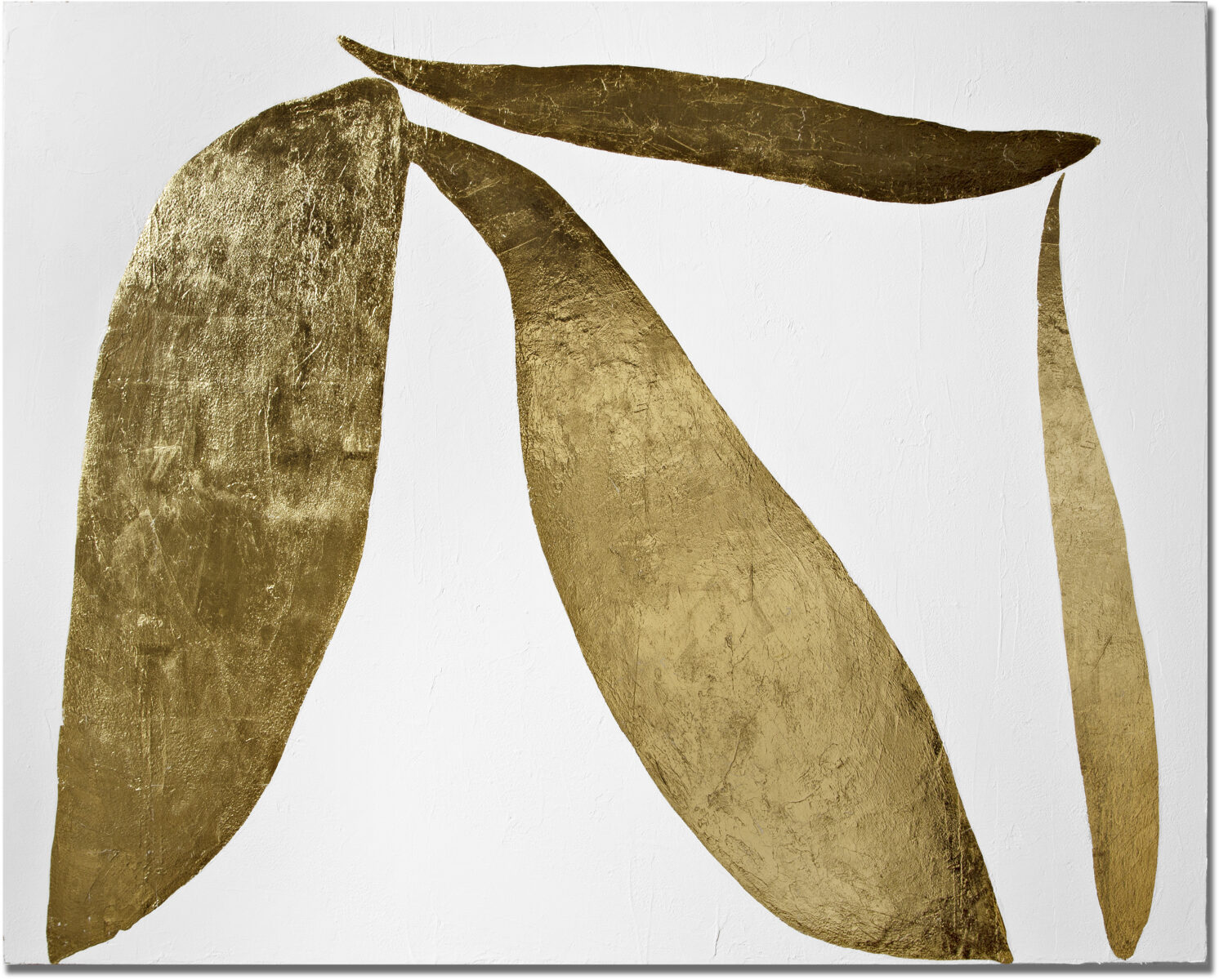 What about your working technique? Walk us through how you start and then develop a piece.
I always work from sketches, usually on scraps of paper. They kind of look like photography, contact sheets, really small drawings sometimes reworking the same idea trying to get the right balance and proportion. I like to lay them all out on the table until one jumps out. I make a lot of these drawings, but I only explore in larger finished pieces those that awaken excitement.
When working with gold leaf, so much of the final appearance of the gold is dependent upon how the surface of the canvas or panel is treated and prepared, the smoother the surface the more potential for reflectivity. The expression of the gold is quite important, since it is not an embellishment but the primary medium of the work.
Any recent or upcoming projects?
I currently have several works in a three person exhibit with Hollis Taggart Contemporary in Southport, CT. This is my first time working with the gallery and has been the most exciting way to start the new year!
Finally, what is your favorite color?
Black, timeless and universal.