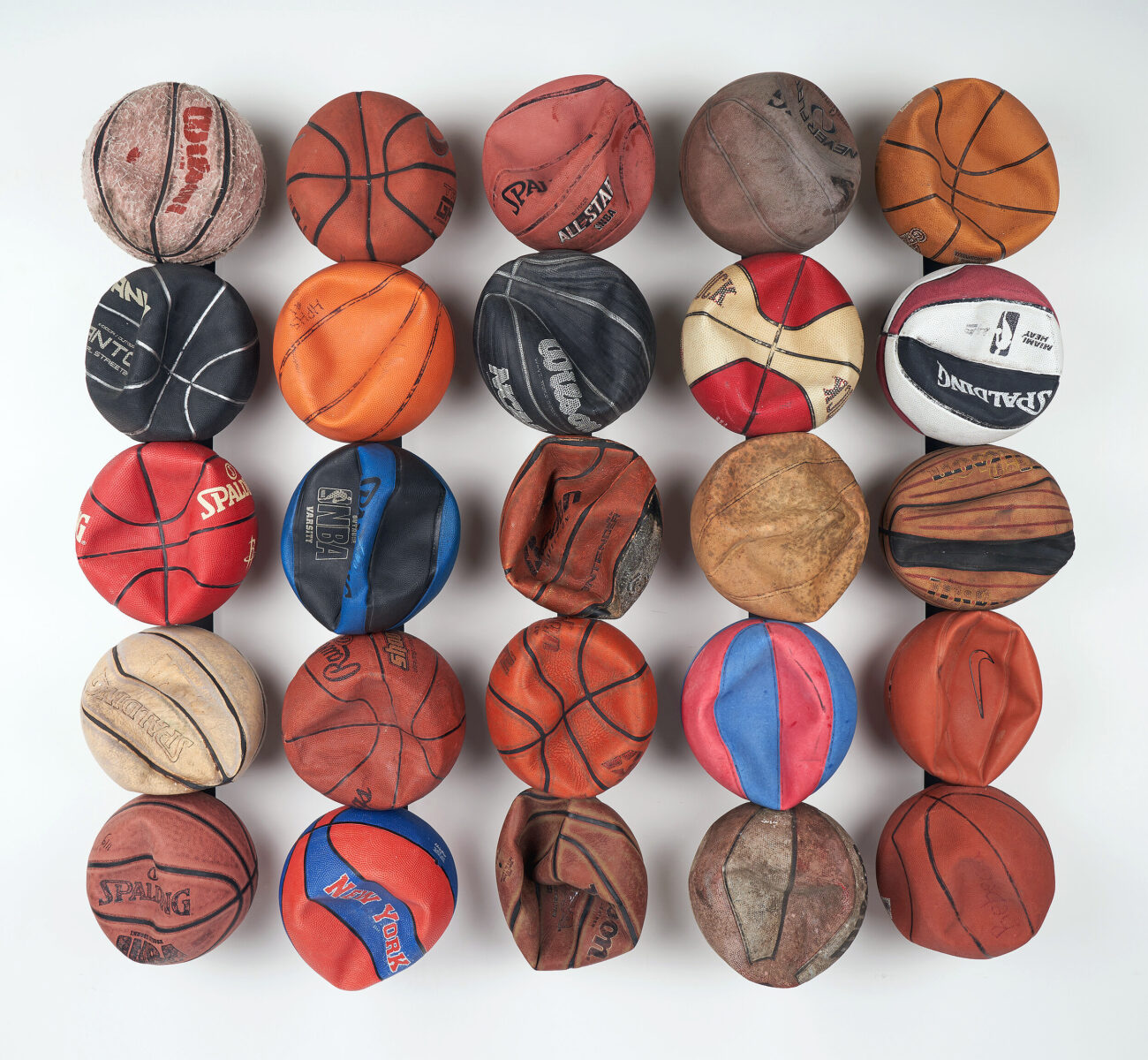 Tyrrell Winston sits down with Erik Sommer to talk about celebrity as commodity, embedded history, David Hammons, and the shadows that define public facing figures.
(ES) Describe your work for us.
(TW) Most of my work is rooted on the street/road. It revolves around ideas of embedded history. Even the works that are not found per sé, I am still focused on this idea of embedded history — finding a part of an image (be it an autograph, a headline, logo, etc.) and changing or elevating its context, tweaking the consciousness around it.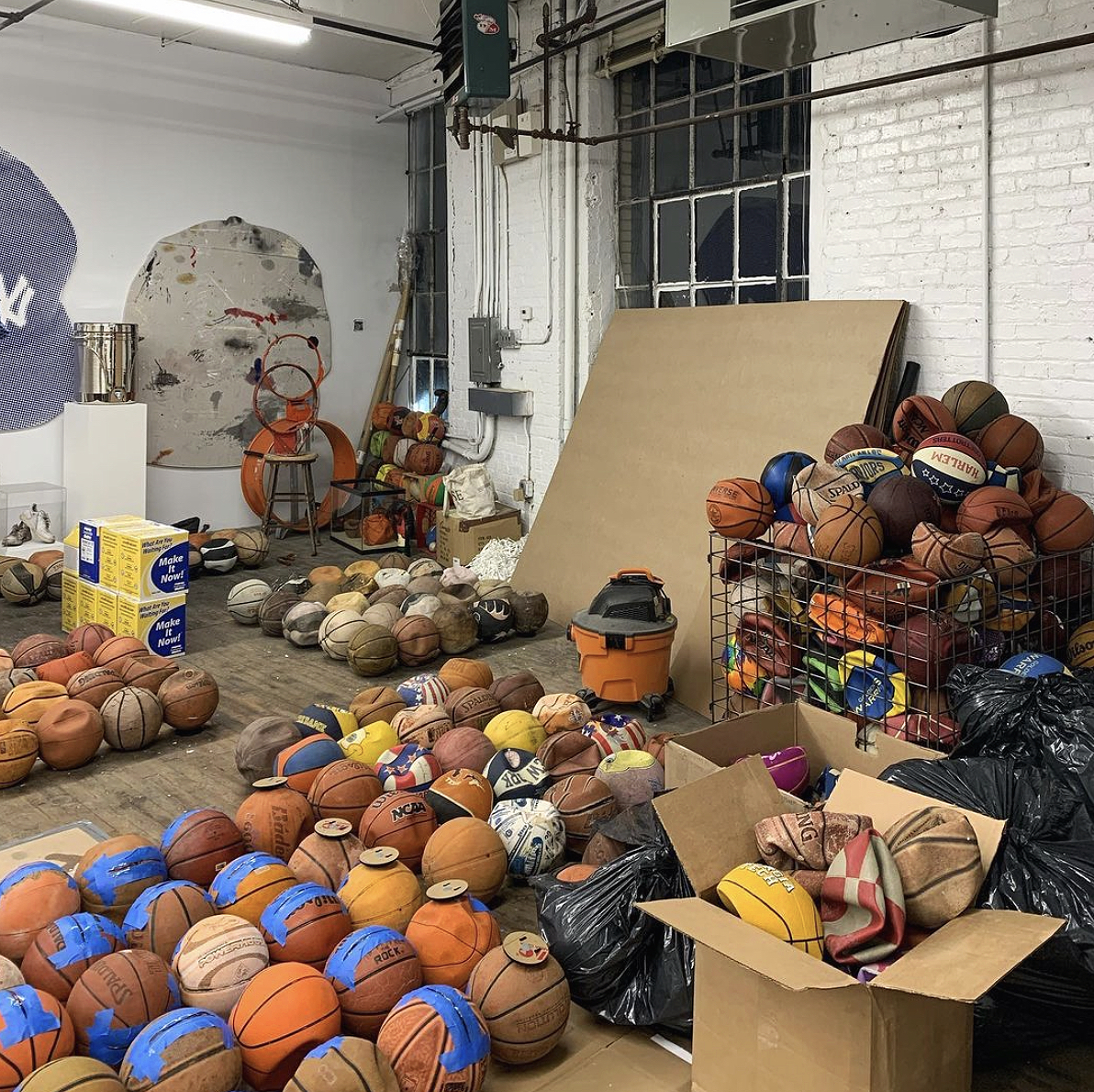 Tell us a bit about your background. Where did you grow up?
I grew up in Orange County, California. Skateboarding and playing basketball were my main interests. My father is a pastor and my mother is an art teacher. Though I do not consider myself to be religious at this point, I do think growing up going to church regularly is one of the reasons that my work often deals with resurrection. I am fascinated with giving new life to the broken and overlooked.
Where do you live and work now?
I live in Brooklyn and my studio is in an industrial stretch of Queens on the border of Bushwick.
How do you think this has influenced your work?
Living and working in NYC has provided me with ample material for years. While I am a studio artist, most of the work or the thoughts surrounding the work come about while spending time walking and gathering materials on the street.
Do you remember any artists as a child that captured your attention??
I remember being around ten years old and coming across Andy Goldsworthy's work, seeing his colored leaves photographed in the water and some of his sculptures with sticks. I was captivated by the work in a way that I hadn't been before by art. At this time I loved to draw but had always viewed art through the lens of skateboard graphics and Renaissance masters. Goldsworthy's work changed that for me even though I didn't have the depth to absorb that fact at such a young age.
Any artists today you are looking at?
Some of my current favorites — Richie Culver, Patrick Alston, Cassi Namoda, Eddie Martinez, Ida Ekblad. And work I've continued to revisit over the last ten or so years — Dash Snow, David Hammons, Robert Rauschenberg, Joseph Beuys, Cady Noland, Sherrie Levine, Henry Taylor, Christopher Wool, Laurie Parsons, Nate Lowman, Dan Colen.
You are known for using found material in your sculptures- basketballs, nets, cigarette paraphernalia- and in a sense archiving these items while presenting them in a new way. How important is the story of each item?
The stories surrounding the objects in my work are important because they are abstract, meaning many things to many people. For a number of years I was obsessed with only using found materials from New York, but this construct became limiting and narrow. The objects I use exist in different capacities universally, so why not tap into that? While New York might be the center of the world it is no longer the center of my work.
Some of these pieces remind me of David Hammons, the way he asks us to look at and find beauty in the overlooked and discarded.
David Hammons is the messiah. I would love to be one of his disciples. He is able to construct sculptures and paintings in a direct way where there is bone and meat, no fat. Seeing his Five Decades show at Mnuchin Gallery in 2016 was one of the most visceral experiences I have had with anyone's art.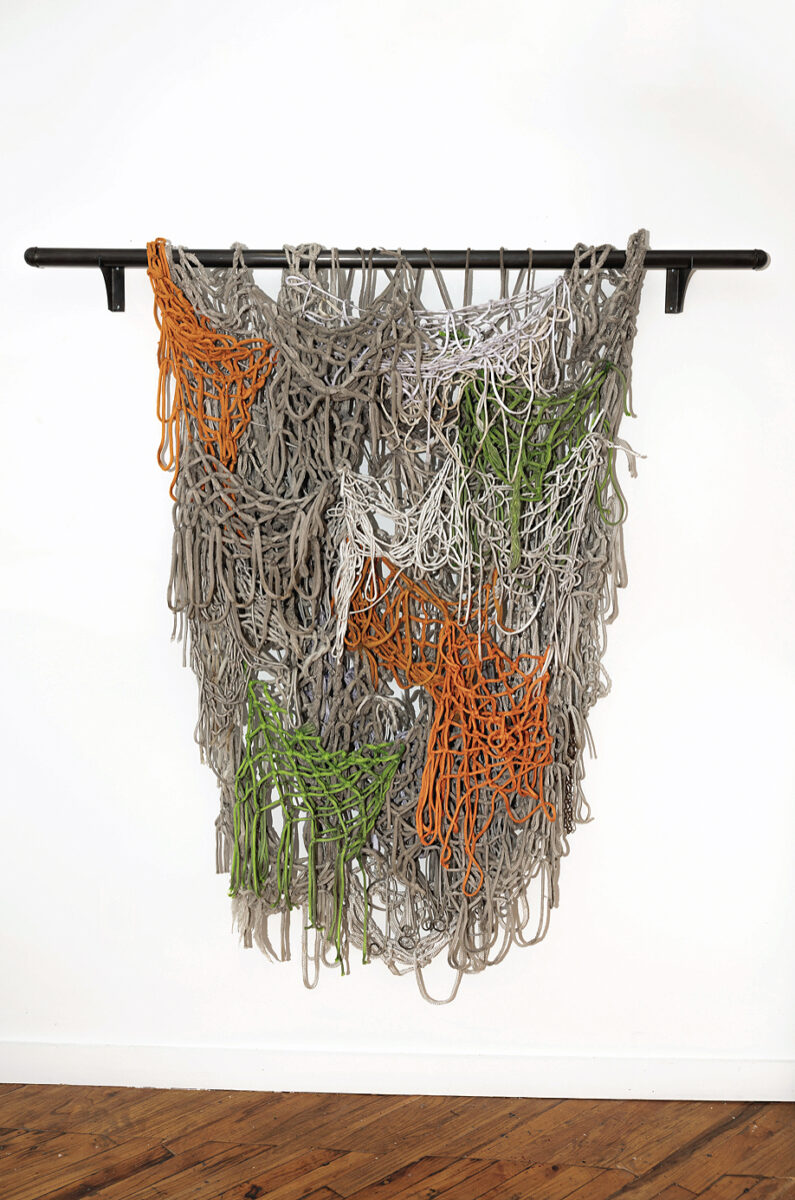 Your performances, such as autographing basketballs already signed by Michael Jordan, remind me of Ai Weiwei's dropped urn. While his actions were very political, your work strikes me as more about celebrity and the sacredness of collectables. Is this accurate?
The signing sessions are steeped in art history. Ai Weiwei's dropped urn was something I was reflecting on leading up to the start of this body of work. These works call into question our obsession with valuable items and celebrity as a commodity. They also insert myself into the idea of touching immortality, or desecrating that notion. They toy with the idea of sanctity. Can you do something sacrilegious and in turn find salvation?
I really like what you've previously said about Rauschenberg's erased de Kooning, how it is about resurrection through negation. I think it is right up there as one of the most important pieces of the 20th century.
I couldn't agree more. When Rauschenberg signed that de Kooning, Rauschenberg was relatively unknown and de Kooning was already an art star. That is what made the work stand the test of time — Rauschenberg's unflinching belief in his ideas.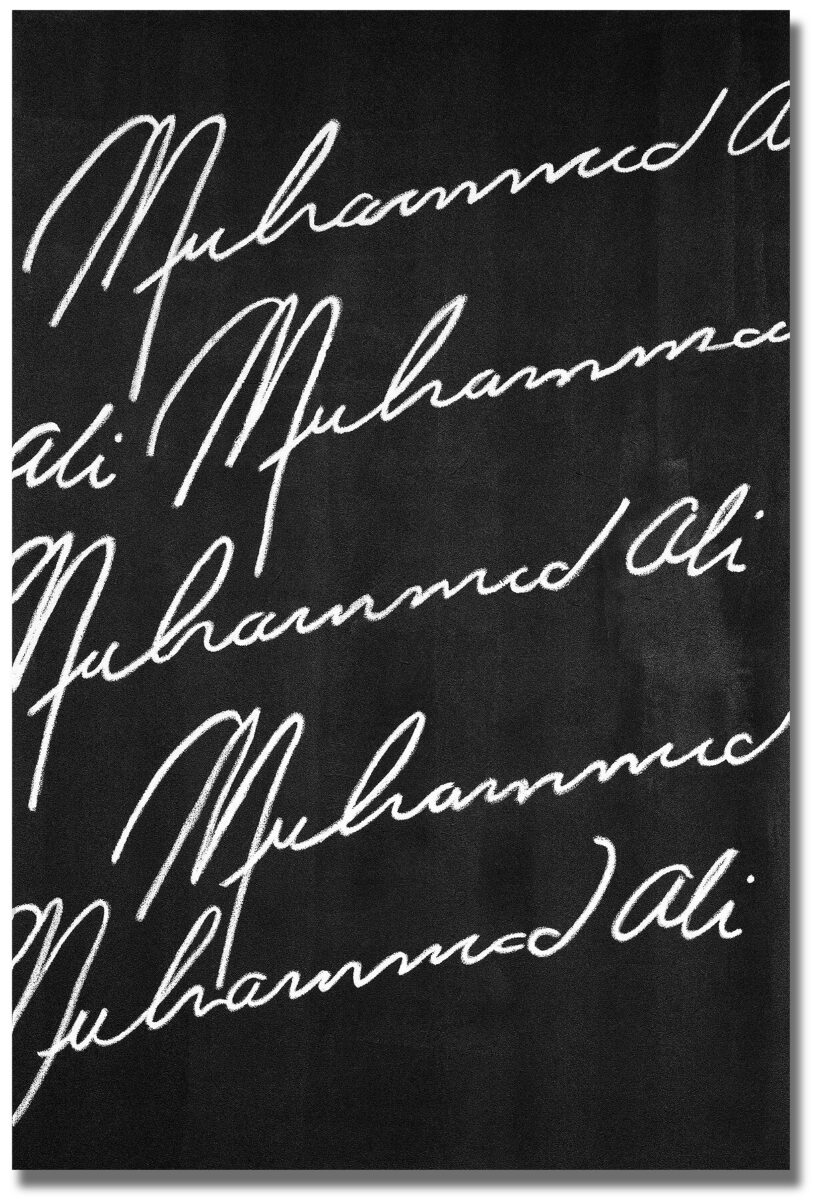 I look at my signed Jordan basketball through a similar lens. Outside of Cristiano Ronaldo I would say there are few living athletes who are so universally known. At the same time, I am relatively unknown to most of the world and me signing a piece of memorabilia that is held in such sacred regard infuriates some people. They think it is blasphemous, arrogant, the list goes on. I have been told countless times that I have ruined that basketball, but it is these conversations that give the work legs. I would much rather people have a strong opinion against the work than no opinion at all.
In your "Punishment Paintings" the autographs you use are very decorative: Mickey Mantle, Joe DiMaggio, Muhammad Ali. Are you more interested in the formal elements of these signatures or the athletes themselves?
I am interested equally in the calligraphic quality of the signatures as well as the athletes themselves. But when talking about the athletes there must be an elephant in the room that is/was uncomfortable to address and it is often outside of the sport they are/were renowned for — for Mantle it was his alcoholism and womanizing, DiMaggio his relationship with Marilyn Monroe, Ali his refusing to serve in Vietnam. I am not passing any type of judgement on these figures. Rather the work focuses on the shadows that exist within all of us, they follow us forever. Public facing figures are sometimes defined by their shadows. The press can vilify anyone for anything, and as a public we love to see someone rise, but there is a strange collective satisfaction when a hero shows their mortality.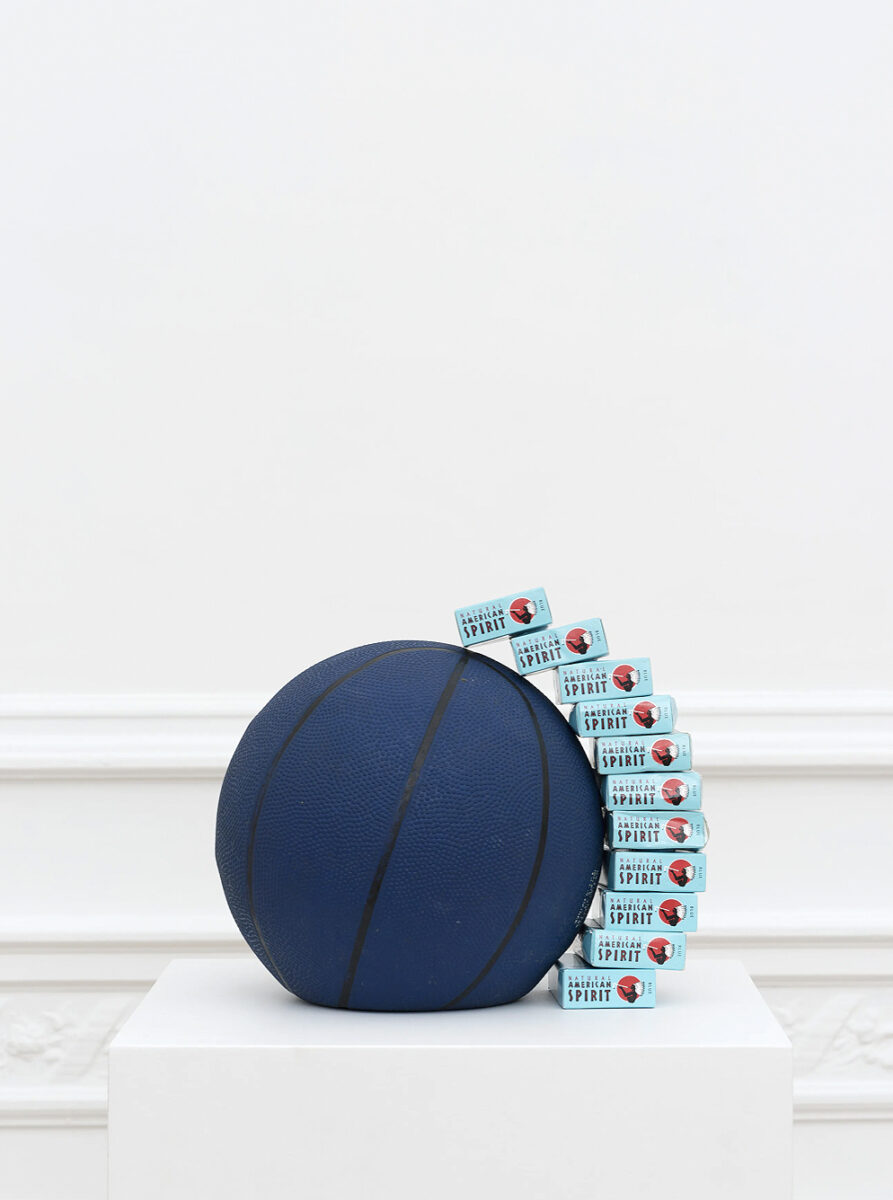 What is your normal studio practice like? Any routines or superstitions?
I try to get to the studio early. I enjoy waking up before sunrise. It is nice to be in the studio before the rest of the world is moving around. I am always listening to music, early morning albums are Jay-Z's Reasonable Doubt and Tears for Fears's Songs From The Big Chair. Aside from that, the only constant is writing. I try and write about my work and the ideas surrounding it as much as possible.
What about your working technique? Walk us through how you start and then develop a piece.
Most of the work is a result of bumping around in the studio, arranging things, seeing if they work together, taking pictures on the street, dragging things back to studio, throwing those things away, regretting that I threw them away, then going back out on the street and trying to find similar materials.
The development of refining pieces is where most of the energy goes these days. A lot of what I work with is trash, so making it as archival as possible is of the utmost importance.
What excites you the most about the current art world?
The fact that shows have opened in galleries again, museums are open, people are inclined to get back to doing studio visits. There seems to be a light at the end of the tunnel.
Any recent or upcoming projects?
A group show with Carl Kostál in Stockholm in April and in September I will have my biggest solo show to date with Stems Gallery in Brussels. It is my second solo with them and I am looking forward to showing some very large scale works.