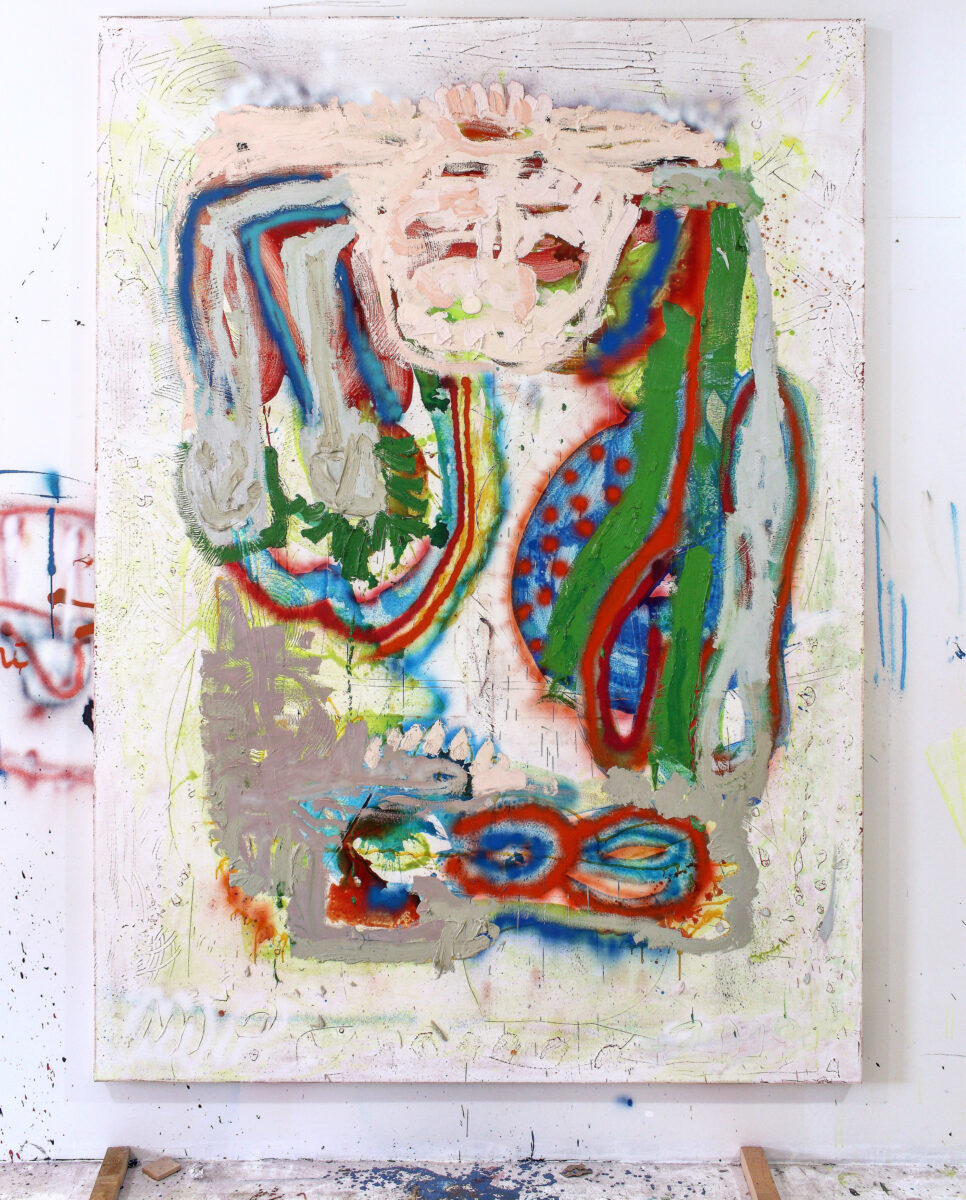 Marco Pariani sits down with Erik Sommer to talk about his childhood outside of Milan, how living in Brooklyn has influenced his work, his relationship with oil and spray paint, and how he hates routines.
(ES) First, describe your work for us.
(MP) For me this is hard to do. I like to hear what people think about my work because sometimes I can see something interesting with the eyes of another person. I spend every day in my studio, with my idea of painting, and for me it is easy to say "I love to 'use' colors. I like to paint and draw, use spray paints, everything…this is my work." This is the only important thing: do whatever I want to do with the media and support that I want. I feel like a child that has his own secret playground who can spend all the time there and play, play and play again, free to do it, you know, like a dream.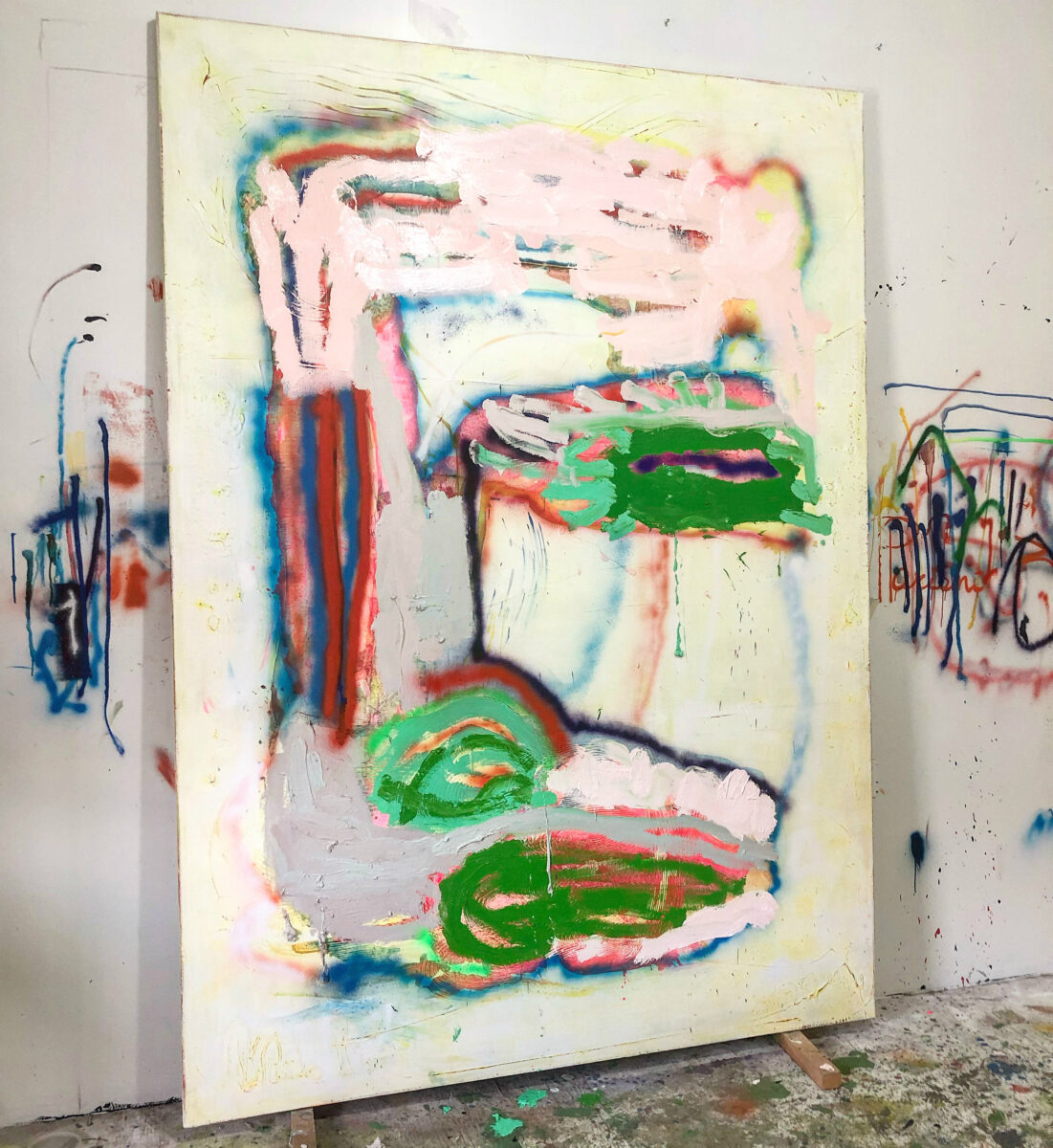 Anyway, for me, to live in this society sometimes is really hard and I feel like I'm not part of it. In the last few years I have tried to represent some of these situations inside my paintings. In particular it was fun to play with titles, now too, but there are some months that I'm focused only on what I like, without trying too many "games"- just paint and draw and put myself on my canvases and paper. Brooklyn helps me a lot to understand this; to be true, be yourself and work really hard.
My works look abstract but there's a kind of figurative idea before: pieces of body that for me are the pink shapes, shoes, dogs and a lot of other things.
I can't say what my works are, abstract or figurative. Like I said, I like to hear what people say to describe and criticize them.
Tell us about your background. Where did you grow up?
I grew up in a small town in Italy, 40 minutes by car from Milan, close to one of the biggest Italian airports. I was surrounded by bad situations and drugs but I found some great friends and we spent many years together, without money, enjoying a lot of our teenager times making a lot of crazy things together. I learned a lot about life.
My dad was a woodworker and I spent a lot of time playing with wood when I was a kid.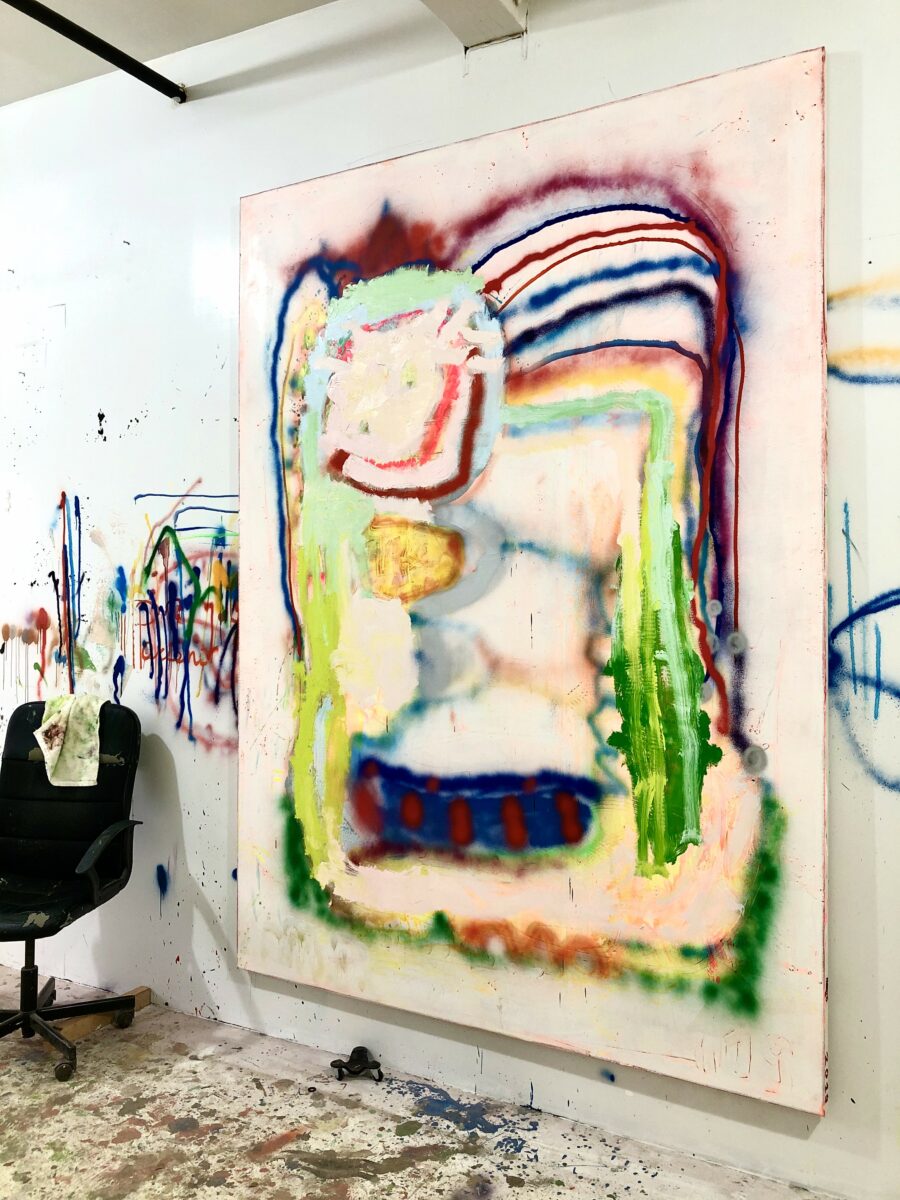 My parents lived outside the town, surrounded by fields. I remember that my brother and I played a lot outside and also spent a lot of time with my dad and my mum to help them in the fields of corn, with animals like rabbits, chickens… It was fun.
My grandfather went to buy cigarettes and he came home with a lot of books and markers. I remember that for me using them on paper was really fun- drawing and copying cartoons.
After that, years and years of school. Nothing really interesting, until 2005-2006 when I started to play with huge canvases and colors.
Where do you live and work now?
Finally I moved to Brooklyn of February of this year (2019). I have a visa and can stay here until 2021, but we'll see what happens.
How do you think living in Brooklyn has influenced your work?
Brooklyn has helped me to understand what contemporary art is- the contemporary concept of paintings and where contemporary art has arrived.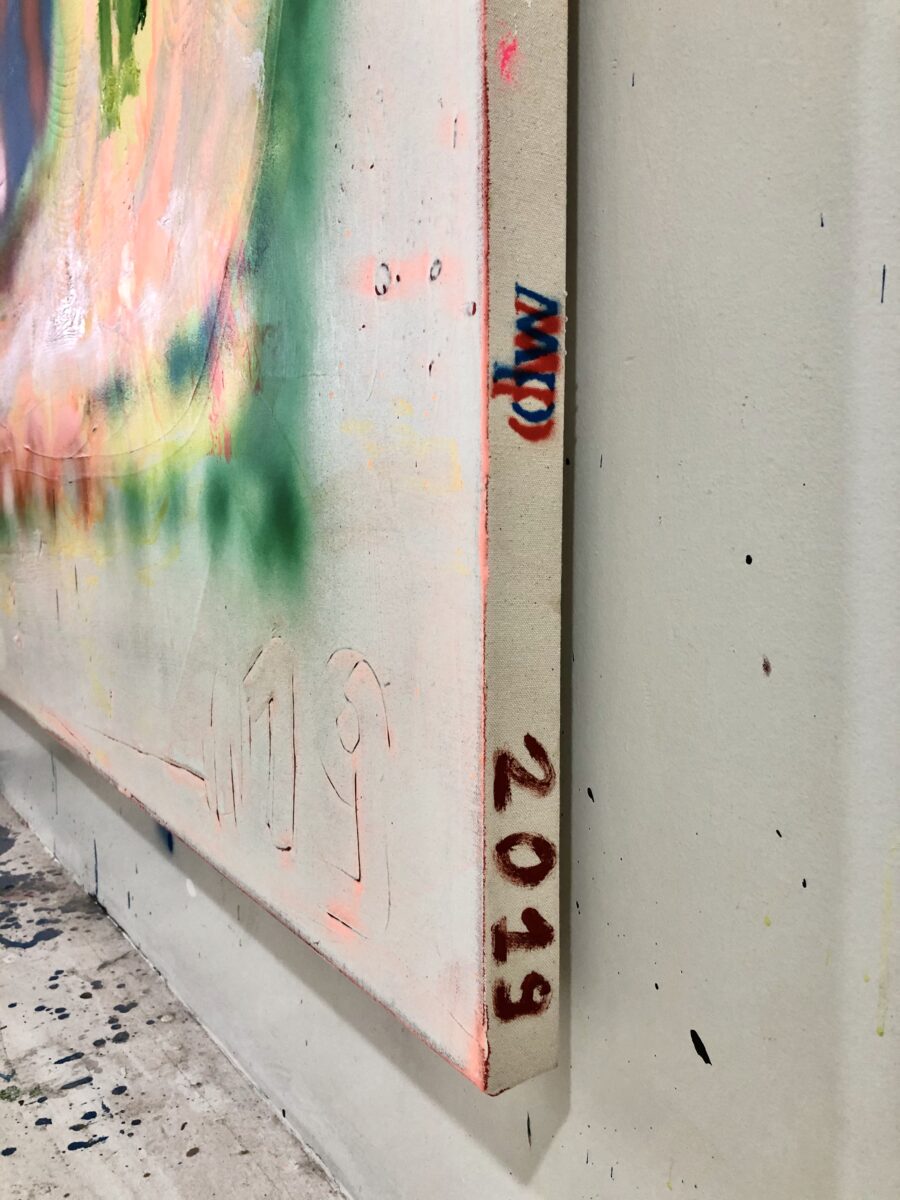 Here there are a lot of amazing artists and I understand that all of them are themselves and put their point of view inside their work, without rules. This is the key: it looks easy but is very hard.
New York City maybe is one of the hardest places to show who you are but at the same time the city gives you huge opportunities. This for me is like a fight that helps my work grow up.
I feel like I am a part of something and this is cool.
Do you remember any artworks or artists that as a child captured your attention?
As a child I remember cartoons. Also the old process of making cartoons by drawing something a little bit different on every page of a book and then playing it- a flip book. I remember that my parents had some paintings at home, not by famous artists, just flea market stuff. I looked at them sometimes like something of importance, with their glass and frames. My grandma also had a painting that my mum made when she was young. I remember that too. It was so sad to not keep it when she passed away.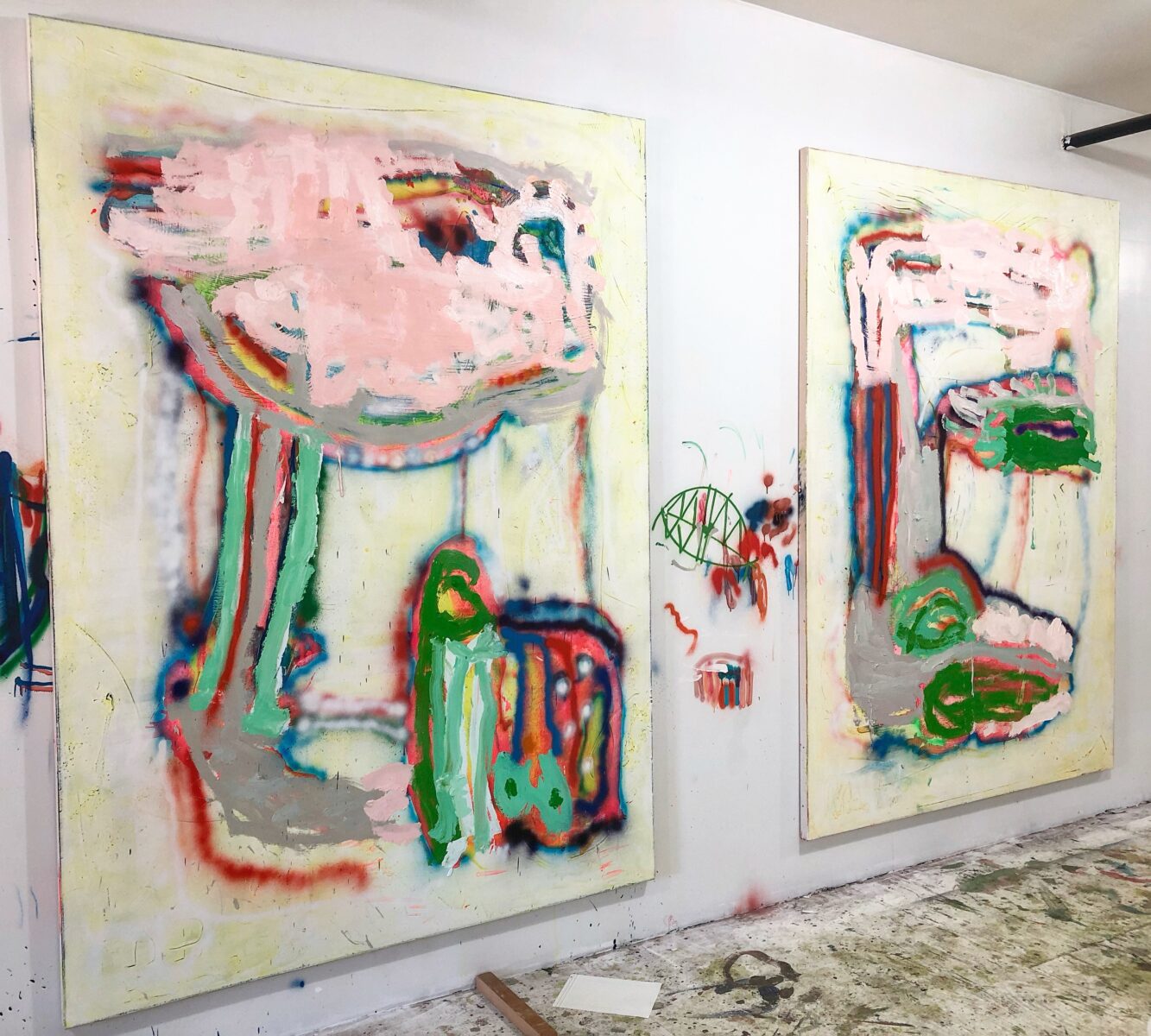 Any artists or specific pieces you are looking at today?
Many artists and pieces. I cannot say all the names.
I look in particular at American artists, but in a different way from the past. I mean, now I look around and I like and respect a lot of the works and artists, but I also feel like that I have my own "work" too and it is different. In the past I've been more curious, like I want to understand how it is possible to do this and that, but now it is just to keep me around of what I like in art, and obviously I enjoy to see great works.
I bought Joe Bradley's drawing book last week if you want to know my last "looking".
Your style is immediately recognizable. Did it take you a long time to find your visual voice? How does your earlier work compare with what you are making today?
People have started to say this to me and for me it is not bad that I have a style. Sometimes this scares me but at the same time I make what I want and obviously I have a kind of "style".
I started with some faces, eyes, but I remember that some pinks and greens were already present; spray paints too because I made something on the walls of my town at that time. After that I made some figures and horses and I remember that I enjoyed more to prepare the canvas than to make the subjects, and after my first trip to New York City in 2016 I understood what was really important for me.
This takes time, and maybe still more years.
From 2016 to now I have had a kind of idea and I have continued with it and it is really beautiful to see that every time a new work has something "different" inside that I try to keep for the next one on the next level. And this is so great- it is the right way for me to look forward to the next one.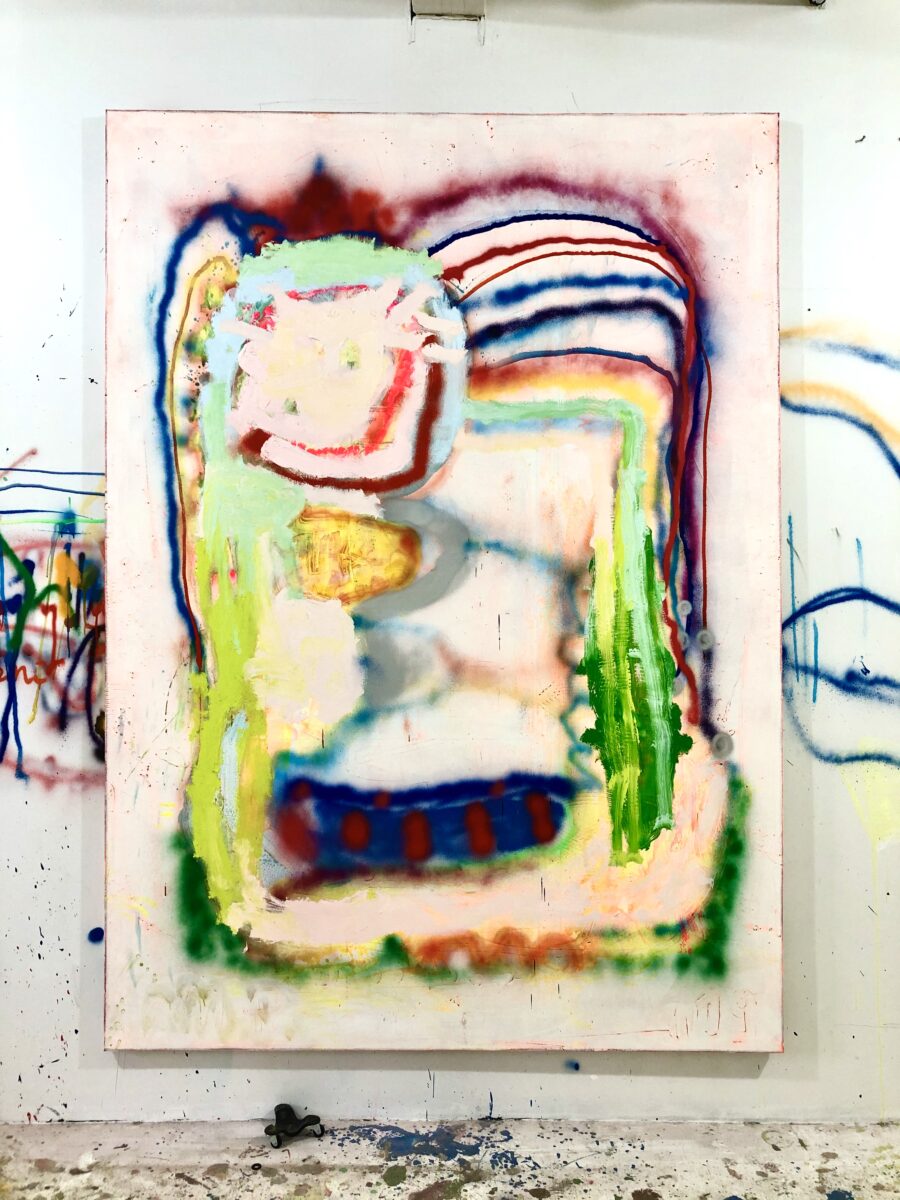 I love how the marks are contained on the canvas. What effect do you think this has on the viewer?
For me it is to just to show what I made with a raw canvas, the layers of work. I like having a good support that can help my brush strokes and spray paint lines have the right "light" to show their power.
Giuseppe Frangi, a great Italian curator and friend, says that this kind of "white frame" around reminds him of Rothko's works -the gesture of paint inside a shape, like an explosion that I try to keep inside something. This is a cool way to see it, but for me is only aesthetic.
For your newer work you have moved away from acrylics and instead use oil and spray paint. Is there a specific reason why you have gravitated toward these mediums?
I moved from acrylics to oil last year. I always used oil on paper but after many years I started again to use it on canvas.
It was weird, but I think that acrylics didn't give me what I was looking for, after many years of great feeling.
With oil I can play more and more with the brush strokes, gloss and matte, texture, a lot of things.
They are in relation with spray paints; this is my media now.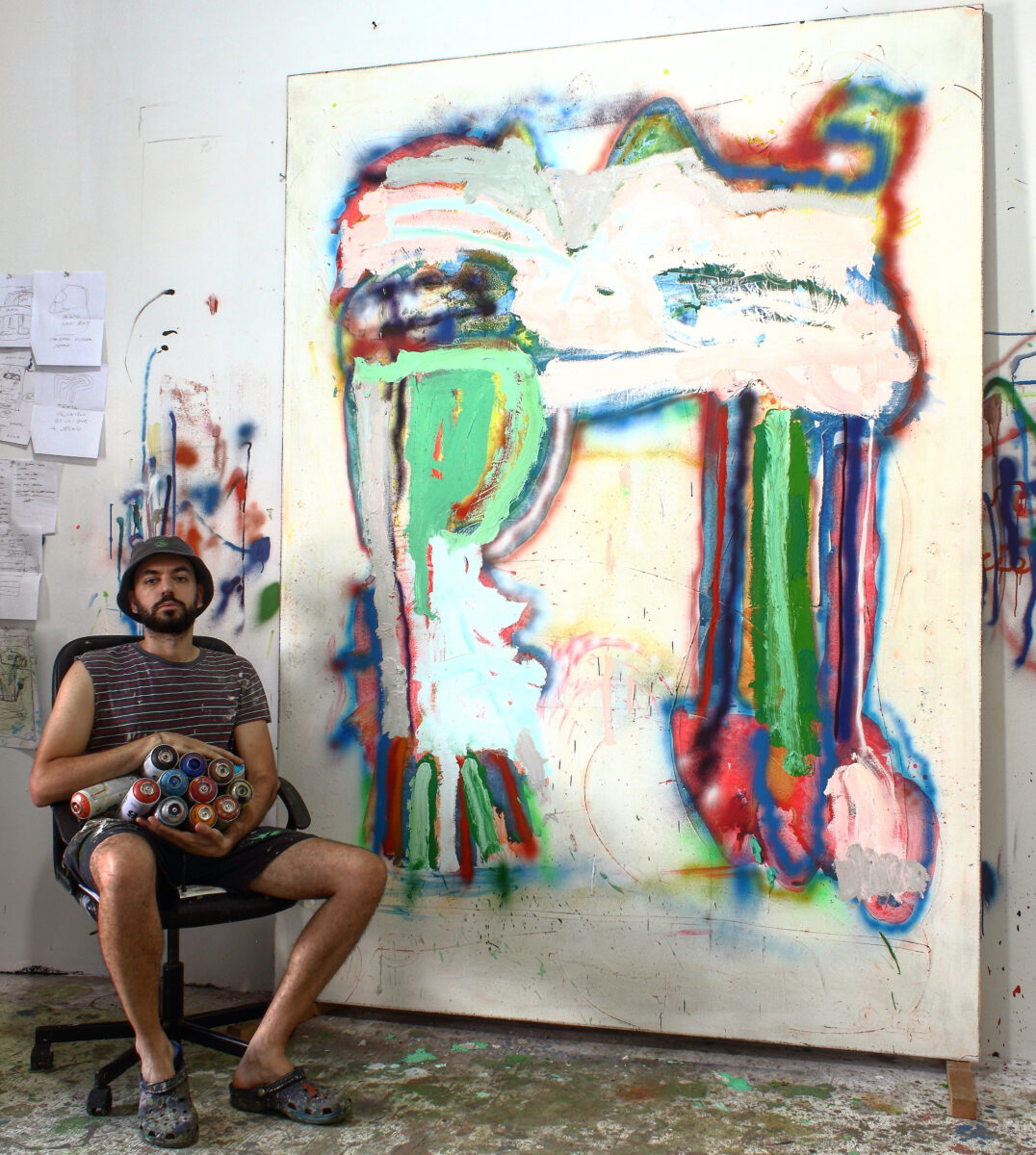 What is your normal studio practice like? Any routines or superstitions?
Honestly, I hate routines, but I know that it is almost impossible to avoid them.
I go to the studio every day, sometimes during the weekend too, but from morning to evening. Not during the night. Usually I paint during the afternoon but sometimes in the morning too. It depends on the ideas and how much colors call me…
I never come to the studio early in the morning. I was a worker for many years in Italy. I woke up at 5:00 am, so now I want to stay in and relax during the morning. I usually go to bed late during the night.
Superstitions: no way. I'm not that kind of person.
Walk us through how you start and then develop a piece.
On canvas, I start from a raw cotton and I prepare it with layers of acrylic medium, acrylic and gesso. After that I scratch the gesso and I draw some ideas with fluid acrylics mixed with water. At the end I put the canvas on the wall and start with my "subjects" with oil and spray paints.
On paper, I put them on the floor and collect footprints, prints from the tires of my bike, dirty colors… After that I put them on the wall and start to paint or draw.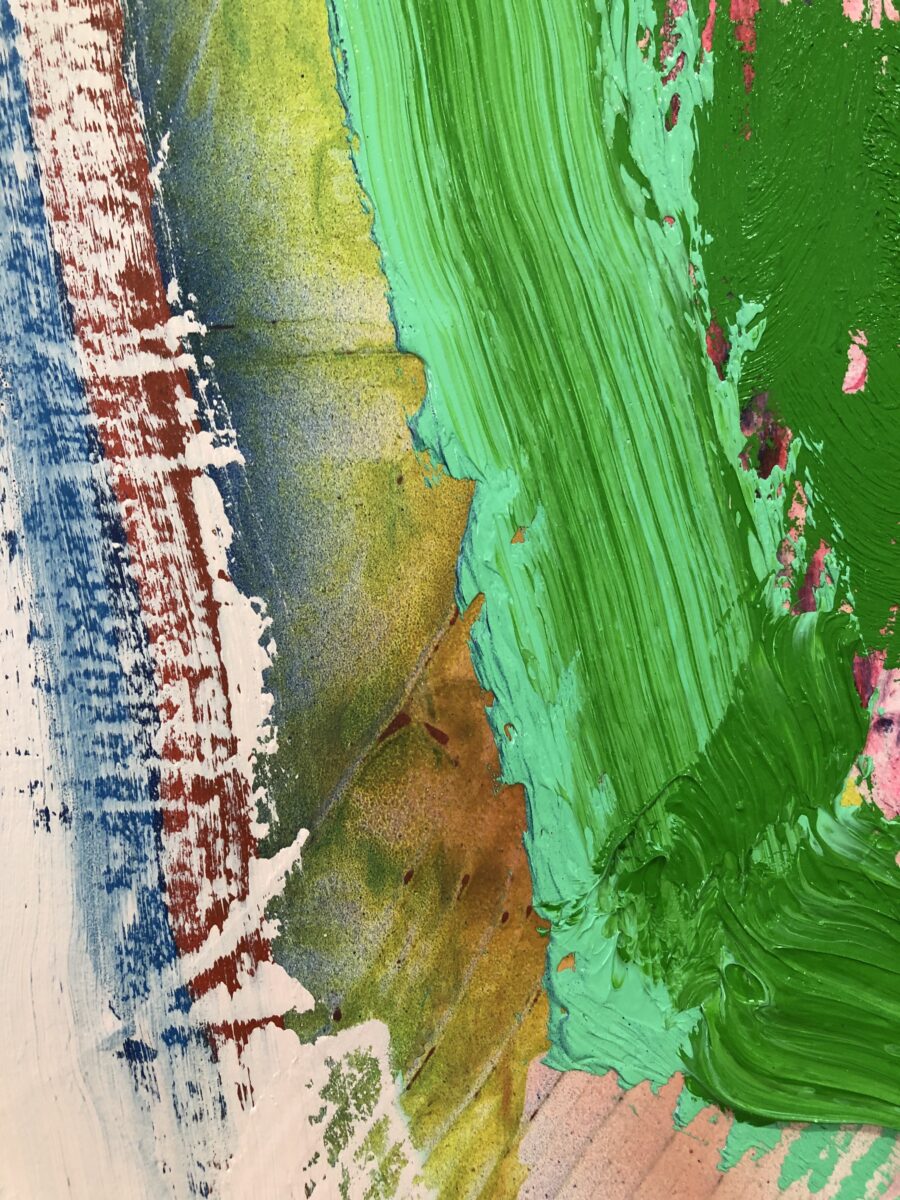 I also like to do monotypes.
How do you remain challenged?
I try to stay focused with my mind on my work and just work. Never giving up. Maybe this is my way to remain challenged, or maybe it is just because I'm a painter and this is my life.
What excites you the most about the current art world?
The competition and the freedom to make what we want to do. This is exciting but also scary.
Any upcoming projects?
Maybe yes, I'm waiting for news. Fingers crossed.
Finally, what is your favorite color?
Erik, I can't do that. It's like for an actor at the Oscars saying thank you to only one or two people. Colors are colors…