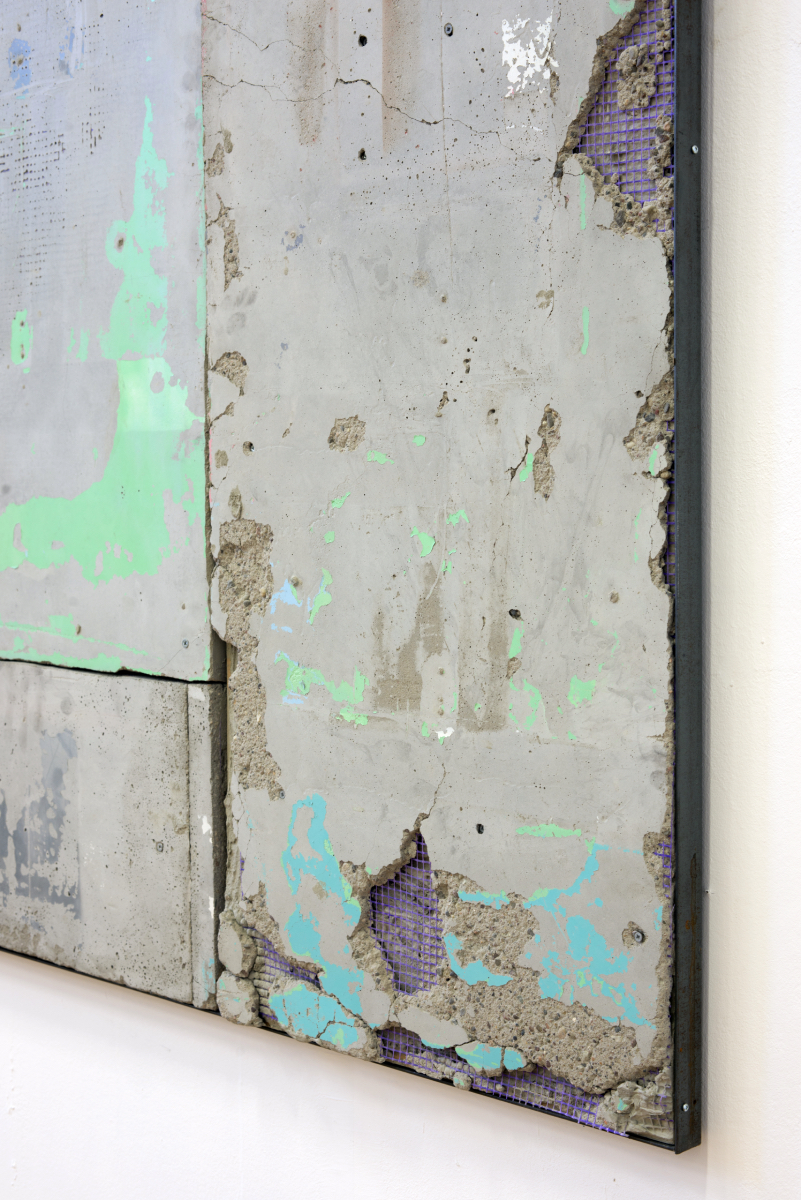 Bram Braam sits down with Erik Sommer to talk about the anarchistic character of Berlin, paying attention to specific details, reflecting on built environments, and thinking about how to physically occupy a space.
(ES) First, describe your work for us.
(BB) I make sculptural works, wall reliefs and large scale installations. I am dealing with architecture and the constant evolution of our daily surroundings, connecting the poetry of daily life in urban environments in minimalistic interventions. I try to explore the boundaries of sculpture, reality and abstraction, and change the context and function of our daily objects in public spaces.
I am specifically interested in the construct of reality and the way reality merges into something new: is something authentic, a reconstruction, a copy or a mixture of all these things? In my work I try to play with these concepts. Some of the works look readymade but are in fact perfectly balanced constructed sculptures. Here I play with the tension between coincidences and control, sometimes with the real traces people leave behind, and sometimes with traces made by myself, mixing low culture with high culture, outside and inside, rough and smooth. Sources of inspiration come from the utopian thinking of the 20th century, modernism in architecture, Brutalism and the partial failure of it, and also minimalism, the De Stijl movement and Gordon Matta-Clark.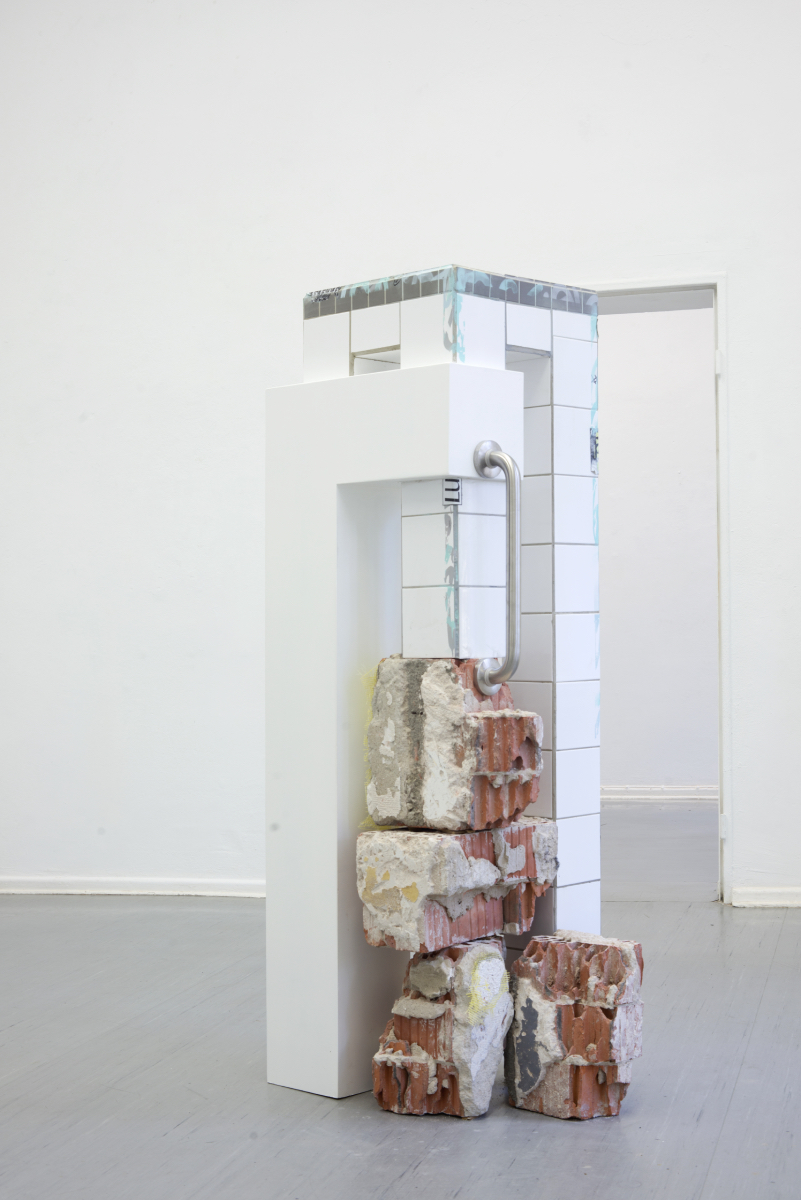 Tell us a bit about your background. Where did you grow up?
I grew up in the south of the Netherlands but moved away when I was 18. I first studied graphic design because my main focus then was illustration, but it was not really my cup of tea to work for advertising agencies. Meanwhile I was involved in the rave scene for a while, mainly in squatted places and warehouses. There I designed t-shirts and decorations for parties. I started relatively late with my studies at the art academy in Den Bosch when I was already 25.
Where do you live and work now?
I moved right after my graduation to Berlin for an artist in residency and stayed.
How do you think this has influenced your work?
The move to Berlin had a radical influence in all I am doing. It still has a bit of an anarchistic character in its ugliness, its beauty, its DIY mentality, its roughness, its unfinished state, its people, its art scene, its materiality.
Do you remember any artists as a child that captured your attention?
I remember the car from Dalí in the museum in Figueres when I was very young, and also the paintings from Monet where I saw a show in Liège with my parents.
Any artists today you are looking at?
Gordon Matta-Clark, Pedro Cabrita Reis, Sol LeWitt, Donald Judd, Le Corbusier, Eva Rothschild, Carlos Bunga, Charles Harlan, Oscar Tuazon, John Beech, Sterling Ruby. Just to name a few.
Your work suggests dichotomies: old and new, smooth and rough, change and permanence. Why is this important to you?
I am interested in paying attention to specific details. To juxtapose different surfaces I play with the tension between them and show that something is not always what it seems. Although I work with big contrasts they can keep each other perfectly in balance, and it is this specific in-between state that I am interested in. A rough old surface can look very classy if you put it in the right order.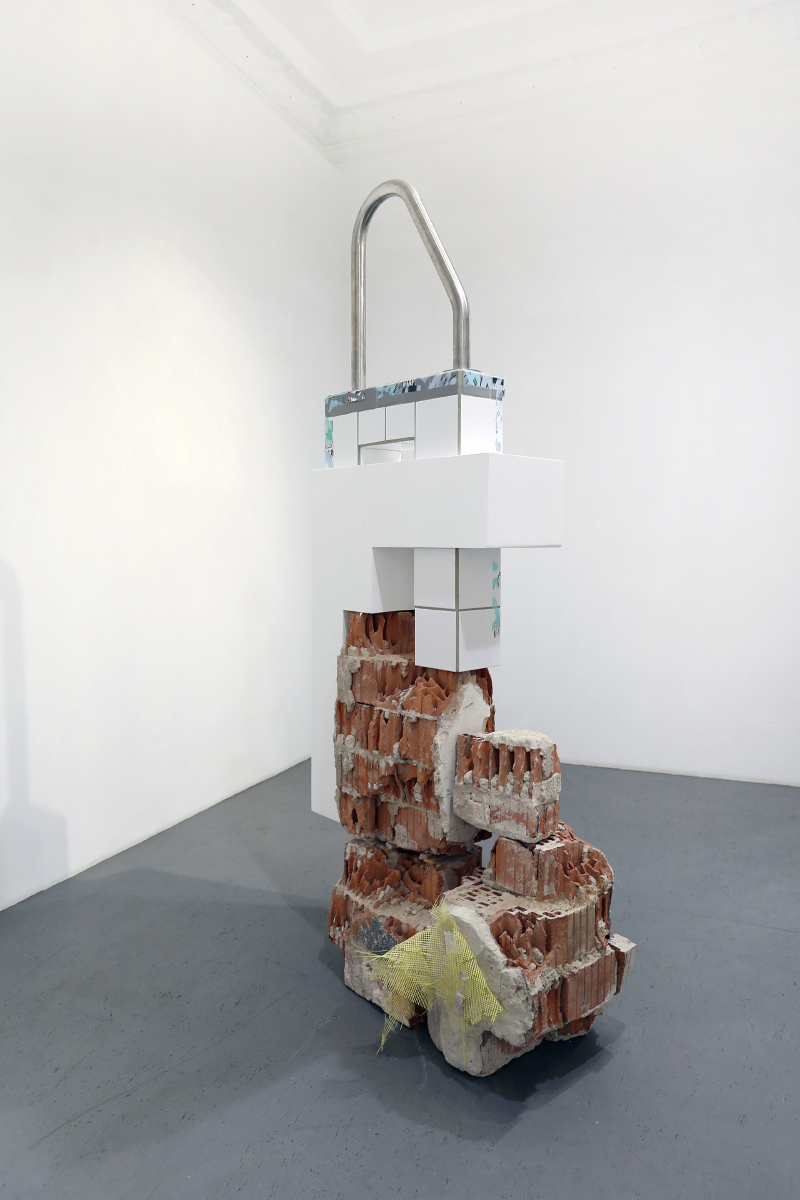 How does your background in graffiti play into your recent work?
When I studied at the art academy I tried to distance myself from my graffiti background and did not want to have that connection with my work. The longer I am busy with the arts though the more it is coming back, its mentality, its anarchy, but also the way I look at the city and the streets. My specific interest in a wall as a canvas is still a big topic in my work. Here I also try to look for the limits of painting in the context of our built environments.
You are known for using industrial materials in your sculptures and installations. How do you choose which materials to use?
It depends on which projects. I am always searching for specific objects and materials on the streets. That is an ongoing process. Sometimes it gives birth to new ideas but mostly it is the other way around and I am specifically looking for something. By reflecting on our built environments most of the materiality is industrial: steel, concrete, bricks, glass, paint.
Your titles strike me as very specific. Are they meant to be read as literal explanations or in a more poetic manner?
Yeah, that is a good question. It is actually a mixture of all that. Some came directly from the streets, some I made up myself and can be interpreted in a more poetic sense. Some of them are just the way you can look at it, for example, the title: "The Eye of the Beholder". And some of them are more literal and came together with other people, like my show at the Till Richter Museum.
How have your curation experiences influenced your work?
I think my curation experiences do not influence me directly in my work but more in an indirect way. Having conversations with all the artists and thinking about how to physically occupy a space is something that always can come back to your personal practice.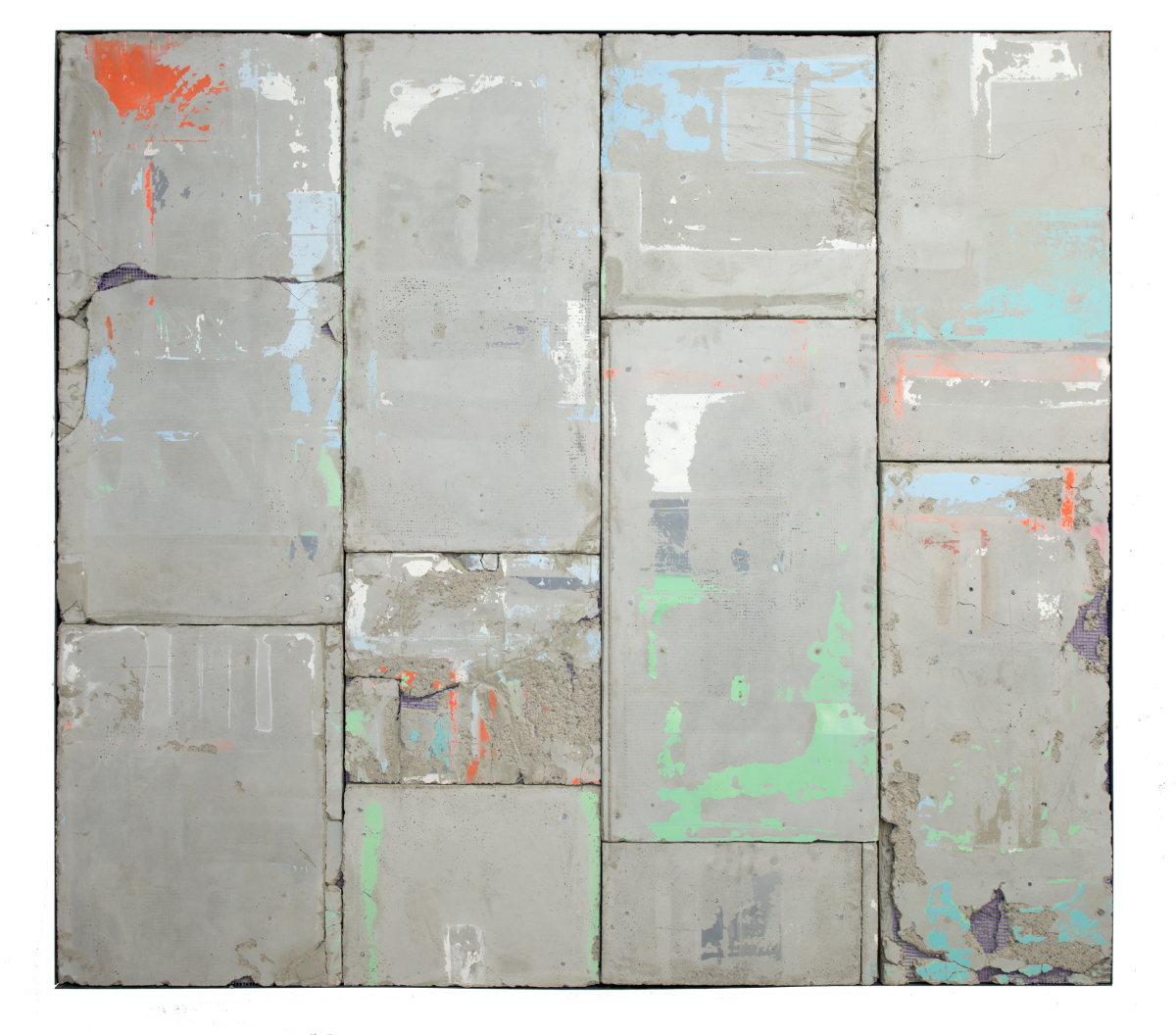 What is your normal studio practice like? Any routines or superstitions?
I have a 3 year old son so that already gives me some routine. In a way I work the best in the morning, and mostly try to work until 5:00 or 6:00 in the evening if possible. If necessary also some half days at weekends. In my studio I get into really physical work. It is a real working place with all my materials and tools. At home I have my desk to work on proposals, ideas and write interviews.
What about your working technique? Walk us through how you start and then develop a piece.
It can be very different but my latest series all came out of one key piece of work I made in 2019 called "The Flow of History". The work was made of real surfaces from a wall that came out of a building close to where I live. I rearranged it and attached it to a wooden surface and framed it. Before I would work mainly with real traces and materials that were used, it was some kind of rule I had for myself, but after this I decided to change and started experimenting with concrete and spray paint and made the work "The Flow of Present". I made molds for concrete and painted on the molds before I poured the concrete in. With this technique you get an indirect transfer with spray paint left over on the concrete. It is a totally uncontrolled process and you never quite know what is coming out. In the beginning I was experimenting a lot and some of the concrete plates did not come out of the mold really well, but the molds themselves looked amazing and I understood that these mistakes were the right material for a total new series of works, the series "Quarantine". They have a really thin layer of concrete and traces of paint. The problem is that these surfaces are very hard to make again because it is a totally uncontrollable process.
What excites you the most about the current art world?
The only positive side I can see now in this crisis is that we all have to slow down. Having a career as an artist means an ongoing lack of time. You are always thinking ahead and keeping busy with the next project. It never stops, sometimes working on several shows at the same time or have just finished a show and immediately you have to move on. Time to reflect is scarce but within these conditions we finally have time to calm down a bit.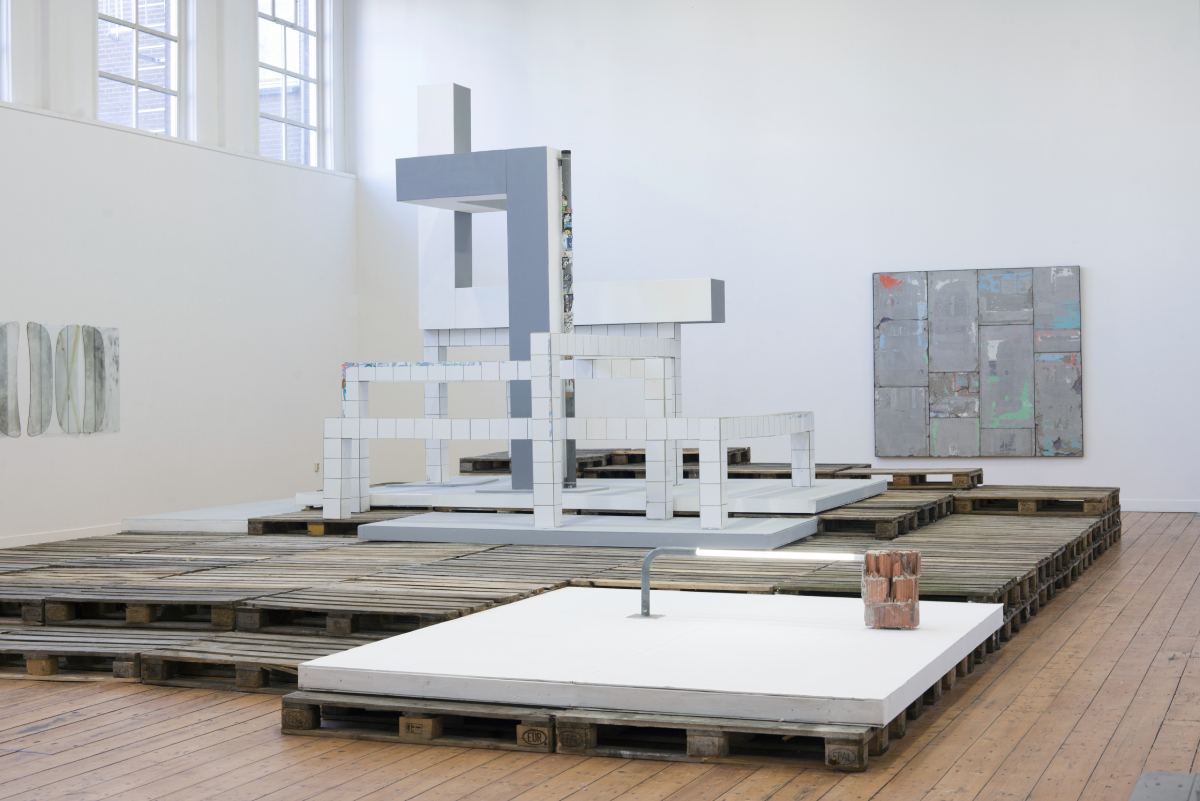 Any recent or upcoming projects?
Yeah, although with the lockdown I do not know what will happen. Several shows have been cancelled or postponed, but I hope that it will start up again in the summer. At the end of July I will show a big outside installation at Art Rotterdam as well as new works in the booth with the Frank Taal Galerie. In August I will be present at Enter Art Fair in Copenhagen with galerie burster from Berlin, and I will have a solo exhibition in November in their new space in Berlin. At the 4th of September we open the new gallery season with a group exhibition with artists all dealing with abstraction at Galerie Roger Katwijk in Amsterdam. In October I will participate in a big group exhibition at PRJCTLA in Los Angeles curated by Carl Berg. So still a lot of things are planned, fingers crossed what is going to happen.
Finally, what is your favorite color?
Black.