Shit Art Club's Loser Angeles and the Mac sit down with Erik Sommer to talk about authenticity, Google street view, creating an experience, and enjoying life.


(ES) Tell us about Shit Art Club. How did it get started?
(SAC) Well, we suppose the premature birth of Shit Art Club was way back in high school when we met in Mrs. Shafranski's painting class. Mrs. Shafranski had little to no rules, leading us to some experimental and controversial artwork and behavior. Eventually one student got tired of our shit and we ended up in the principal's office with our parents and a stack of "unacceptable" canvases waiting for us, including a collaboration piece titled "Ballsac de Humor". Ultimately we cost Mrs. Shafranski her job, but we will forever be grateful to her for those days. SAC was reborn after college when we moved into a run-down, rat infested palace with some buddies in West LA. We always painted together back in the day, so we picked up where we left off: collaborating, building, painting, and sometimes destroying. Eventually the entire house was covered with paint and strange sculptures. Our skate ramp got a facelift daily and as time went on we realized that our house was gaining a unique look and feel. The reality was no gallerists wanted to show our work at the time and we couldn't hop over the high barrier that young artists face to get into the industry. We decided to throw our own art show complete with live music and an inclusive mentality. We stacked pallets in the backyard for gallery walls, emptied the house of all furniture, and built some installations. Then, we organized a show for us and about 8 of our friends. Anyone there can tell you what they thought of it, but it gave us the confidence to keep SAC flowing.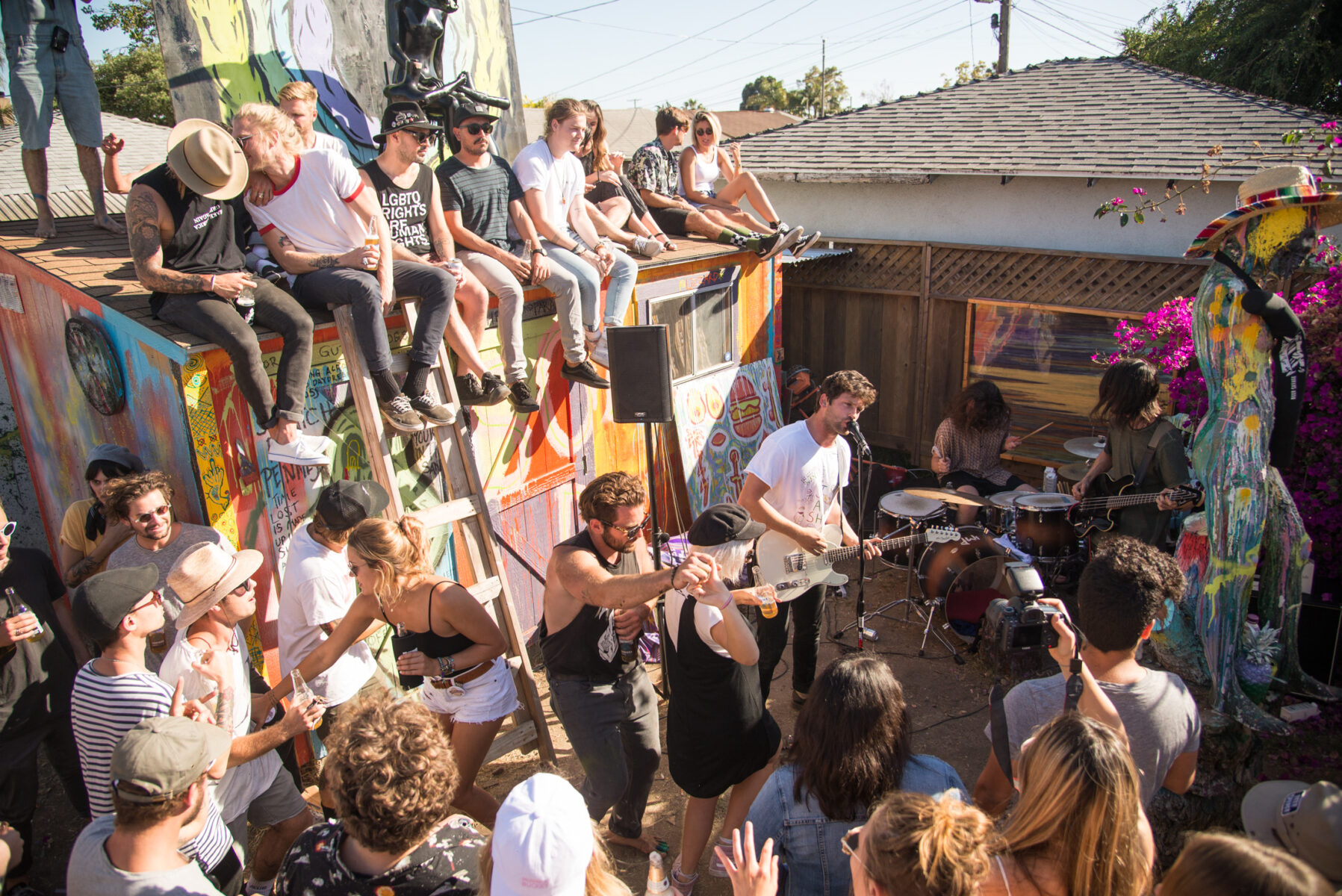 You are both from Southern California so it was natural for you to open the space in LA. Has the city and art community been receptive and supportive? What has the response been like?
Yea, both of us are from South Orange County and we both ended up living in LA for work. Everything in the way our business has started has felt somewhat natural, including the location. Since Shit Art Show 1 we had been doing house art shows, festival builds, brewery takeovers, and random events like that. We knew we needed a space, but the search took a lot longer than expected. Also, considering we have no funding, the possibility of an event space was somewhat dim. We decided even just a studio would be fine, but after a year and a half of searching our borderline skid row gallery space became a reality.
The community is insanely supportive. Without the guidance of our neighboring galleries, These Days and 1700 Naud, we would not be where we are today. One thing people don't really understand at first is whether we are a gallery, a studio, or an event center, but that is the way we like it. We suppose we are all of the above at points. With our latest show we turned the space into a playground and have never seen so many kids cry when they have to leave an art gallery. On the other side of the spectrum, there have been tons of old folks with a smile on their face saying, "That's the first time I've enjoyed a slide or a see saw since I was kid!" It is pretty awesome the demographic that ends up having a laugh at our space. Everything we do is pretty much centered around having fun and enjoying life first and foremost.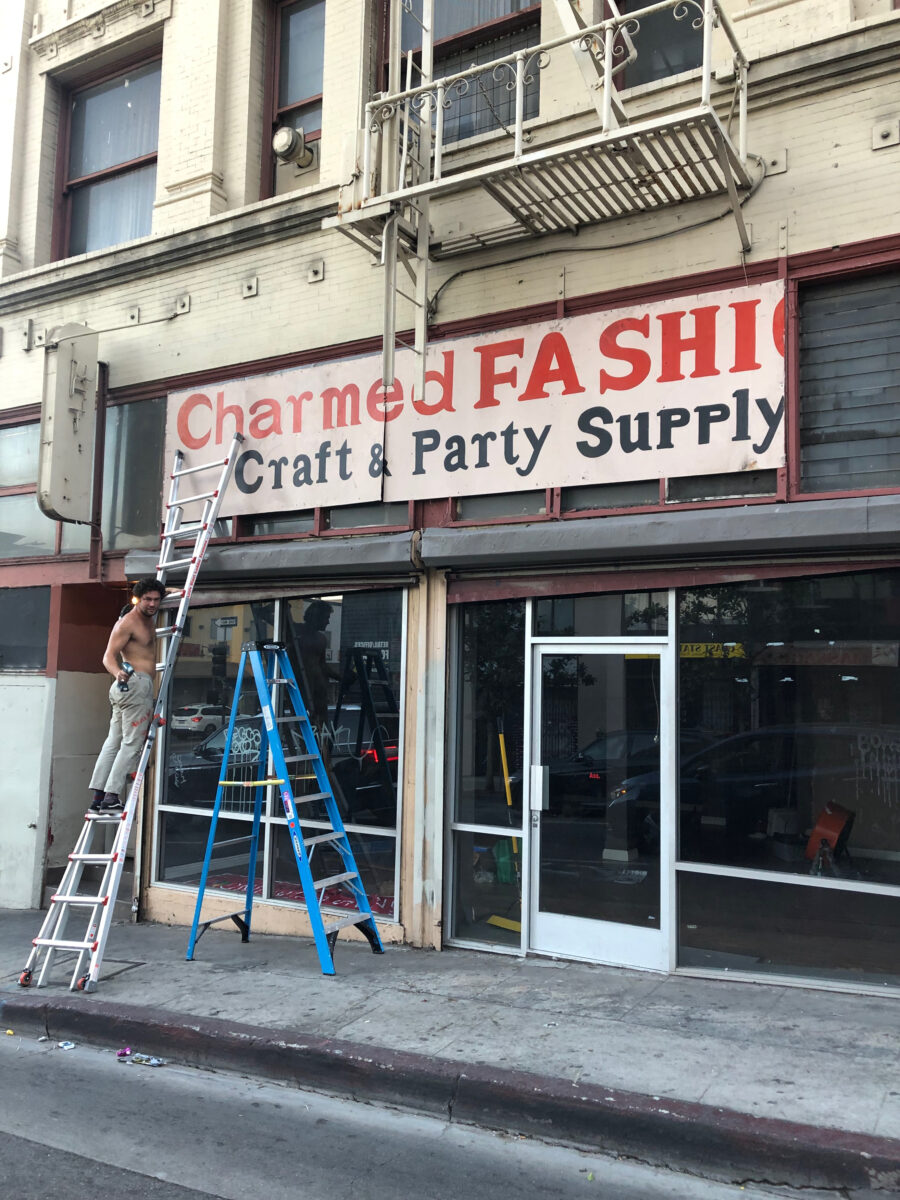 What do you like the most about being in LA?
LA has a little bit of everything. Food, art, music, the ocean. She keeps you on your toes and life is never boring here.
How did you find your space?
It was pretty odd. We were about to sign a lease to take the 3rd story of a Skid Row warehouse, but we weren't really convinced by it. So we were using Google maps street view and clicking around the streets looking for a vacant spot. I guess Google maps hadn't updated in over a couple years, and when we came across the spot we have now there was a phone number taped to the window, which ended up being the building owner. He was confused that we somehow got his number, but nonetheless we built a relationship with him and eventually took on the lease. Rumor has it the space used to be a Korean bath house / whorehouse that was shut down when a patron was murdered. It was a little spooky when we first moved in.
Are there other galleries or spaces that influenced you or that you looked at when getting started?
Yes and no. There were a lot of galleries we visited that seemed to lack a sense of community, which we wanted to build. Additionally, the common sterile environment of a traditional art gallery was never something we wanted to recreate. Our goal was to create an experience centered around fun. Nonetheless, we have immense respect for a lot of other galleries. Some of these include Deli Grocery, The Pit, These Days, Canada, Webb Gallery, NBB, Carl Kostyál, Richard Heller, New Image Art, Breach, Beers London, Delphian, SAGE Studio & Gallery, amongst others.
You have done a handful of projects now. What unexpected challenges have you run into?
Well to start, one of our founding partners, Alex Lavayen, had to take a step back from Shit Art Club due to health issues. This was detrimental as he is a brilliant writer and definitely would have been the one answering these questions. We lost a leg of our tripod and are still learning to adapt. One initial challenge for us was not judging a show's success based solely on art sales. The feedback from the community regardless of sales is extremely important to us. Additionally, it is important to us to put emerging artists in a position to have a long successful career, which does not happen after having one successful solo show. Another obvious challenge was Covid, but we won't beat that dead horse. We are rolling with the punches and having faith that hard work will pay off, sooner or later.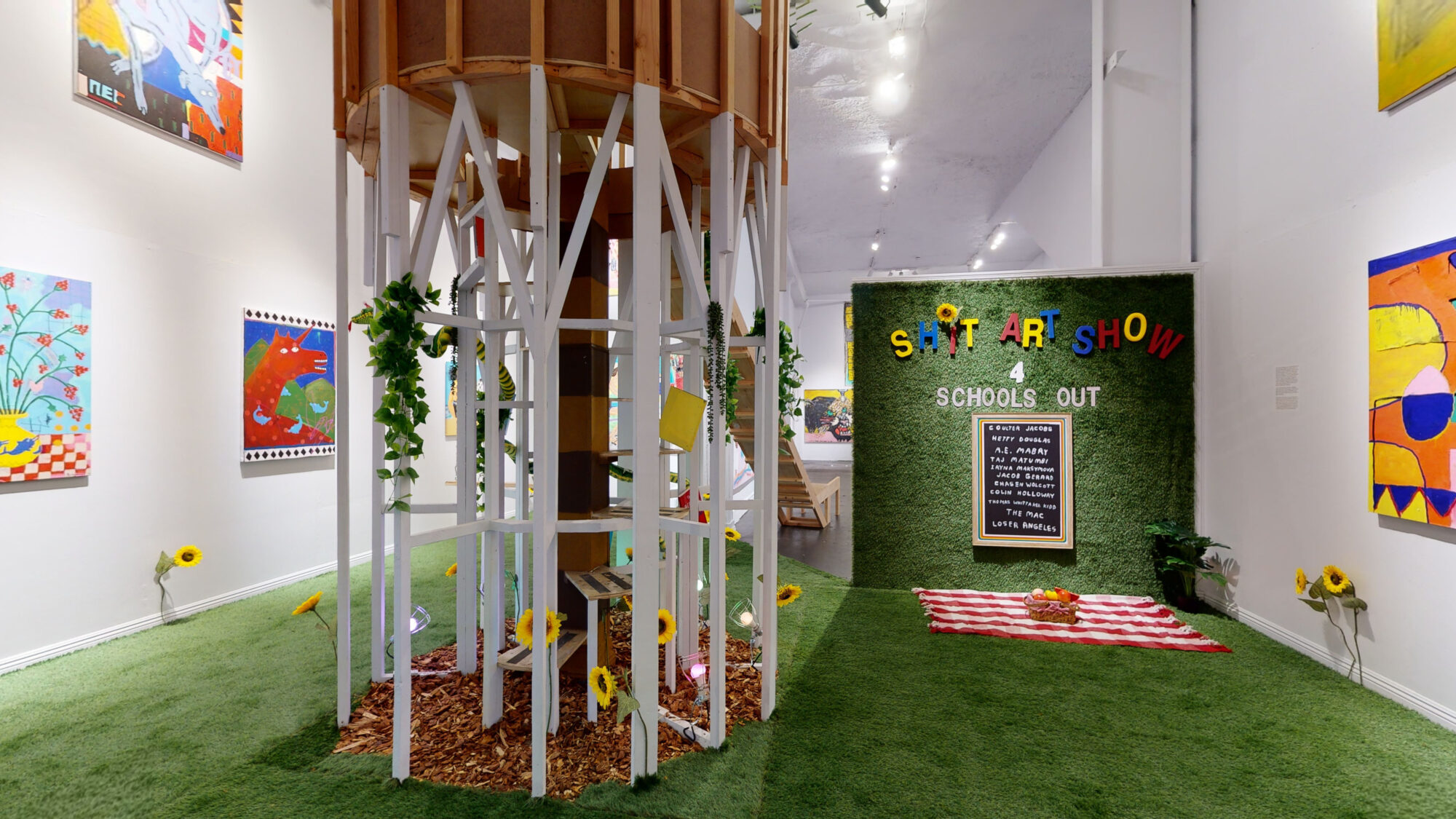 Any highlights or favorite moments that stand out?
That is a tough one because it has been so much fun along the way. Shit Art Show 1 will forever live in infamy in our minds. Not sure we will ever be able to pull off anything like that again. That one was the genesis of this odd journey. Another highlight was working with Monster Children and Pabst Blue Ribbon at 1700 Naud Gallery during the heart of the pandemic. We curated a group residency with Demi Boelsterli, Lucy Eyears, Jake Joseph, the Mac and Loser Angeles. We built a 14 foot spaceship out of an old boat fully equipped with rocket boosters, a fish tank, plants, and anything else we might need in space. Our latest show, Shit Art Show 4: School's Out, is another standout. This was our first experiment with international artists we admire, and building an entire playground was our most expansive installation build to date. One thing is for certain, none of this would have been possible without the constant support from our community and friends.
How would you describe your programming? Are there specific aesthetics to which you are attracted?
Our programming is always evolving but one constant is putting the artist first. We gravitate towards authentic and hard working artists that are dedicated to their practice. We appreciate the artists that do not compromise their work to fit into a category. Instagram has been a helpful tool planning these shows, especially with our latest group show, Shit Art Show 4, where we connected with 11 artists from 3 different countries. However, in a world where everyone is constantly looking at each other's work via social media, it is hard to find uniqueness. Subliminally artists can tend to slightly replicate what they have been looking at. In the wise words of David Bowie, "…it's terribly dangerous for an artist to fulfill other people's expectations." So, we would say we are attracted to people who make art true to themselves.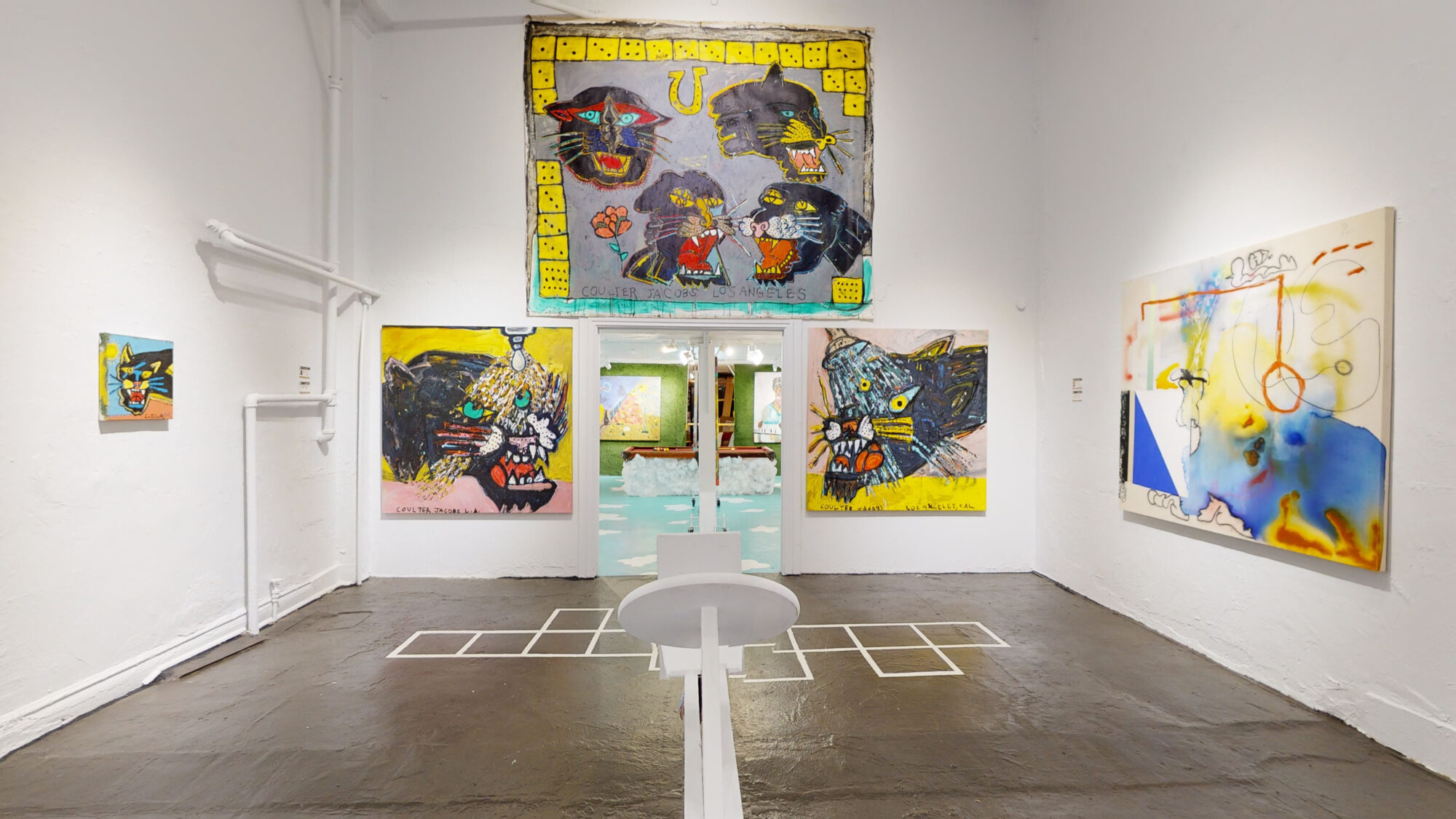 You are both working artists as well. How has running a gallery affected your own work?
It is an interesting balancing act. At times it can take away time from painting, which is our goal, but simultaneously it brings together a beautiful community. We have a lot of visitors while we are painting, so painting in front of random people was one thing we had to get used to. From the perspective of a gallery, it has given us the means of meeting patrons, collectors, making connections and getting our work out of the studio.
Any artists you would love to work with?
We have high hopes, but here are some: Robert Nava, Katherine Bradford, Andi Fischer, Trey Abdella, Royal Jarmon, Jordy Kerwick, Richie Culver, Bel Fulluna, Hyangmok Baik, Marcus Jamal, Emma Kohlmann, Bianca Fields, Taylor Anton White, Cristina de Miguel, amongst many others…
On the music side of things, we have always wanted King Khan and BBQ Show to play.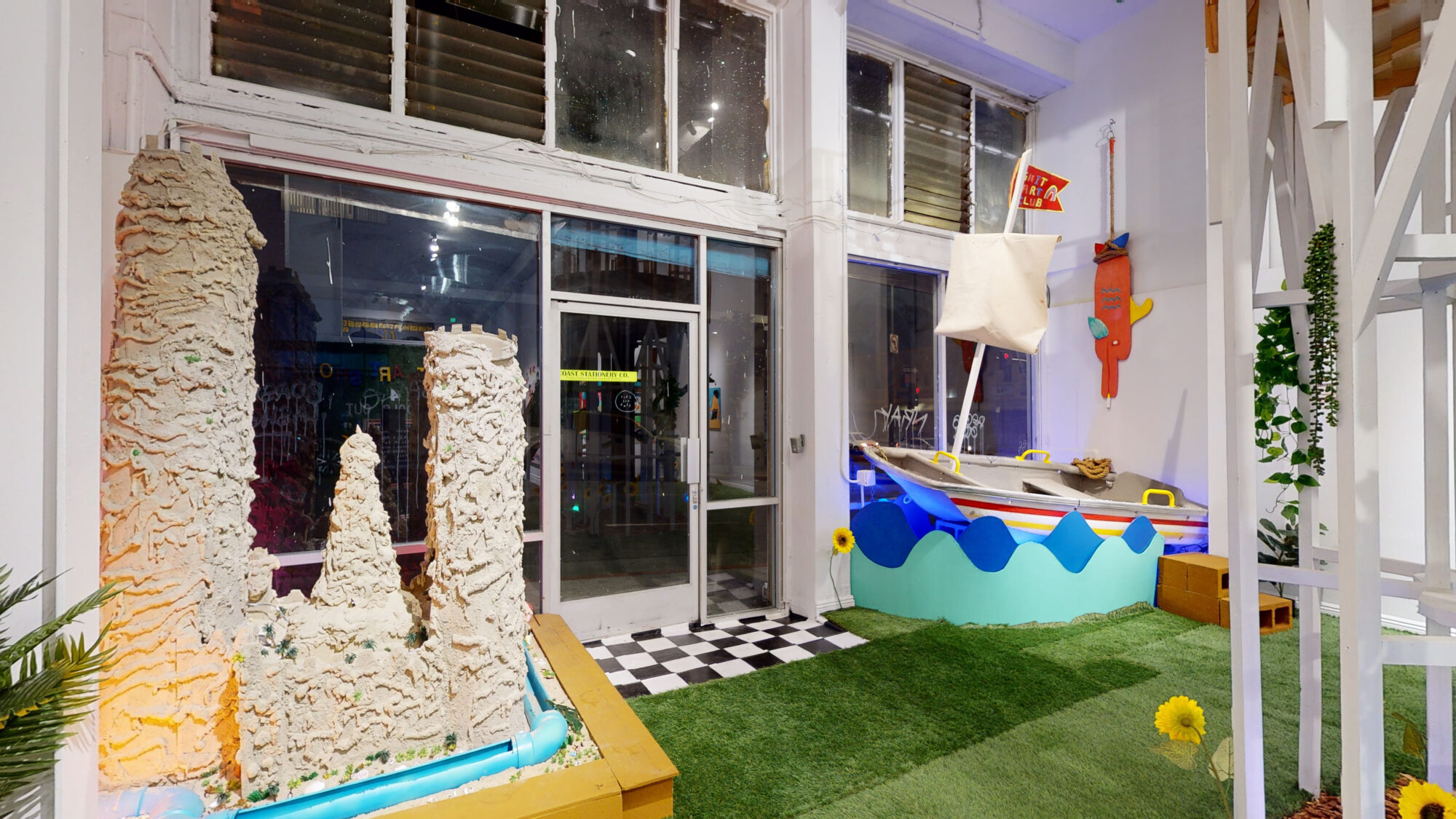 Any upcoming projects you can tell us about?
Our next show is going to open on Halloween. It is our friend Demi Boesterli's solo show. She makes some insanely emotional work and we are psyched to give Demi her debut solo exhibition. Beyond that we are planning a Valentine's Day show titled Love Stinks – this one will be couples that are both artists. In April we are proud to have you curate a group show! Finally, Shit Art Show 5 in summer of next year. We have got some other ideas in the works too, but we won't bore you with our whole calendar here.
Finally, what are your favorite colors?
That is easy. There is really only one. Stinky brown.